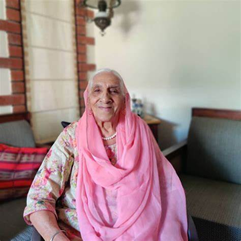 Everyone must do some work in their life. So that he will be happy. Seeing the passion of 94-year-old grandmother, people learn that age does not matter to start their work. 94-year-old Harbhajan Kaur is an entrepreneur and makes and sells sweets. But this grandmother came into the limelight when Anand Mahindra tweeted and called her 'Entrepreneur of the Year'. In fact, the 94-year-old grandmother once told her daughter that she never earned a penny in her life. Hearing the mother's words, the daughter encouraged her and started a brand named after her. Her daughter says that we never ate outside as a child. Mother always cooked a variety of dishes. Of which Besan's barfi was her specialty.
Her first day in the kitchen was extremely encouraging as the barfis she prepared were sold out within a few hours. She made Rs 2,000 on the first day. It was only a matter of time before the word spread, soaring her popularity and the bulk orders started pouring in.
However, with the second wave of novel coronavirus pandemic wreaking havoc across India, Mrs. Kaur, too, contracted the infection. But she beat the deadly virus and emerged stronger. If you thought that was it, you were wrong. She is now not just a thriving entrepreneur but also an Instagram star with over 12,000 followers on the social media platform. Her granddaughters keep shooting Insta Reels and share them on the timeline.
For instance, earlier this week, she posted a small video in which Kaur is seen preparing for a tangerine squash. "Have you tried season special tangerine squash by Mrs Harbhajan Kaur? Due to various types of Vitamin, Minerals and nutrients, present in the Tangerine it has own health benefits as well as a refreshing drink".