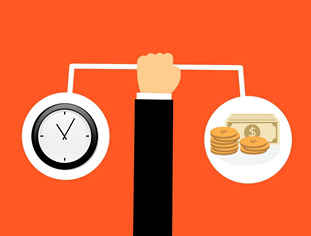 6-Time Management Tips No Matter What Your Work Set Up Is
In this day and age, professionals no longer start the day clocking in, sitting and facing the computer the whole day, and clocking out. The concept of work has now evolved into flexible working hours, remote workspaces, and new ways of doing things.
Time Management at work
While this has significantly resulted in access to a better team, faster turnarounds, and more efficient ways of doing things, the contemporary business setting has challenges of its own.
Remote work could also mean working with Netflix in the background, or constant chitchats from the other table in the café. It's an understatement, but time management is more important now than ever before.
Luckily, there are tips and tricks to make sure your time management skills at work actually work… no matter your role is:
If you are a business owner
TIME is your biggest asset.
There's nothing else that's so important than your man-hours, which can either mean thousands of rupees or losing them. It's key to know which tasks to prioritize, like you really mean business (pun intended).
Figure out the tasks that suck the life out of your productivity.
You may be doing a lot of different tasks and thinking throughout the day, that it's easy to miss which ones are taking most your time. Email? Calls? Meetings? Networking?
It'll be helpful to diligently log your activities and the time spent for each. You can go the primitive route of doing an Excel spreadsheet, or opt for the more time-efficient path –an app.
If you spend a lot of time online, a time-tracking app may be extremely helpful to find out how much time you spend on emails or social media.
These apps can help you become more aware of your timewasters. If you're not too happy with the results, go ahead and adjust accordingly! Focus on the more strategic side of business and delegate the rest to your capable team.
Apply the Pareto principle.
Using the Pareto principle of 80/20 is one way of working more strategically and efficiently. The 80/20 rule means that 80% of the results are based on 20% of your work. Or 80% of your revenues come from 20% of your operations. Or 80% of your sales come from 20% of your salespeople.
Know that the Pareto principle is a constant work-in-progress so keep experimenting until you find the sweet 80/20 spot!
If you are a freelancer or a digital nomad
Get rid of distractions.
The best way to start doing and stop procrastinating? Kill the distractions.
Time spent scrolling down your Instagram feed can suck the productivity out of your work hours. So, go ahead and sign out of that app. Turn off the TV. Switch off those mobile games. Lock yourself in and move yourself away from the chatters. Block the time-wasting websites.
It takes a whole lot of discipline. But on days when willpower and getting a second wind can't save you, you can always turn to tools, like website blockers.
Go for the "pomodoros."
The Pomodoro technique is what many successful people use to accomplish a lot in a day. It's as simple as working for 25 minutes straight to finish a task (called "Pomodoro"), and then taking a break for 5 minutes before starting another task. It sounds so simple, yet it's very effective! Titans and successful people attest to it!
Here's how you can manage your time using the Pomodoro technique.
Adopting this system works because it helps you steer clear from burnout, a sure-fire way to kill productivity. Especially for self-employed professionals like, who have their own schedule in their hands, the tendency is to forget to take a break. That, or the complete 360, which is a 5-minute break and an unintentional hour extension filled with cat videos and texting.
So set your alarm every 25 minutes. Or use a break-reminder app that will prompt you to get off your chair for 5 minutes and sip a warm cup of tea.
If you work a 9-to-5
Go for an early start.
There's no better feeling than to get to the office first thing in the morning with only a couple of people around you. It's the perfect time to settle in and embrace the peace and quiet – no hustle and bustle from the floor just yet.
It's just you, your warm cup of tea or coffee, and your first big task of the day. Sounds like you're off to a great start!
And sometimes, starting off on the right foot carries the good juju throughout the day.
(Of course, this only applies if you're not a night owl or coming from a big night.)
Batch your tasks together.
Some people thrive in multi-tasking and mixing up their work with an assorted list of to-dos. But often, it doesn't work. It's reactive. It takes control away from you.
What regains your control is batching. It's a time management technique that groups similar tasks together. For instance, you can have a full morning of coding or writing, and a whole afternoon of calls and meetings. By doing this, your brain doesn't have to switch from one thinking cap to another.
Batching minimizes distractions and hinges on your brain's capacity to focus and be "in the zone."
6 Best Time Tracking Apps for Freelancers to Boost Productivity
Fortunately, you don't have to spend a ton of money to get a good time-keeping app logging your computer usage.
In fact, five of the apps in this list are 100% free.
Free Time Tracking App #1: Harvest
This intuitive app is a dream come true for freelancers for several reasons.
For starters, Harvest has been around for over a decade already and is still going strong. So, you can feel confident it won't just disappear overnight.
Use the app to track multiple tasks within a project, even if each task is billed at a different rate.
The best part, especially for newer freelancers still trying to gain ground, is that Harvest is free for one user – yes, forever.
The only catch? The free version limits you to tracking time on only two projects.
This won't be a problem if you only need to track time for one or two clients. But if you're juggling a variety of clients and a substantial workload around the clock, it may not be the ideal app unless you're willing to pay a little.
Free Time Tracking App #2: Toggl
Want a powerful time tracking tool that doesn't come with much of a learning curve? Toggl is a great choice for newbs.
With their user-friendly interface, loads of integrations, and companion apps for desktop and mobile use, you get all your simple needs filled in a single app.
Toggl's free version is a complete solution. Tag your entries to projects or groups and manage multiple clients on the same platform.
It also allows you to create custom reports that look pretty nice.
One of Toggl's crowning features is a desktop app that almost makes time keeping automatic, allowing you to put it to use with much less thought compared to web-based or mobile time tracking apps.
Toggl is free for up to five users, so it's a pretty cost-effective time management solution for freelancers.
Free Time Tracking App #3: Tracking Time
Widely used by freelancers and teams alike, Tracking Time works quietly in the background.
So, you can focus more on your work and less on starting and stopping the timer as you go.
Need to collaborate on team projects? The app is built to track cumulative time of all team members on a project. The Basic plan is free for teams up to three. That includes three active projects, 100 tasks, mobile and desktop apps, and popular integrations like Basecamp, Asana, Github, and more.
Free Time Tracking App #4: TopTracker
This free time tracking solution was built specifically for freelancers by Toptal, a freelance talent sourcing platform. They offer one of the more complex timekeeping suites, especially considering it's a no-cost app. The TopTracker app keeps a detailed tab on your activities and delivers in-depth progress reports for all your projects.
You can set up the app to take screenshots at certain intervals and include them as activity reports to your clients. Nice!
Hands down, this is one of the most comprehensive tracking and organizational tools for freelancers.
And you can access every feature for as many users and projects as necessary 100% free of charge.
Free Time Tracking App #5: RescueTime
RescueTime is a time tracking app well-suited for freelancers who want to know how they're spending their hours but don't have to report the metrics to anyone.
It's primarily used to help you gain a more realistic perspective of existing work habits. So, you can work toward improving them.
This app doesn't have all the bells and whistles that come with other timekeeping apps for freelancers.
But that's one reason why it's a great choice. Simple functionality means less time and less distraction.
RescueTime will send you a weekly report of findings, as well as a three-month history so you can view your habits over time and see if your productivity is improving.
RescueTime Lite is free. Forever.
Free Time Tracking App #6: FocusMe
FocusMe is our own productivity software, a powerful anti-distraction app that blocks other apps and websites so you can force yourself to focus. But that's not all it does.
For starters, FocusMe includes a built-in Pomodoro timer, breaking your workday into intervals automatically.
If you're unfamiliar with Pomodoro, it's a strategy of dividing work up into 25-minutes work blocks, interspersed by short breaks for a highly productive work rhythm.
You can also schedule break reminders within the app to help you remain energized and refreshed throughout your day.
One of the most popular features is the automatic computer tracking.
Take one quick peek and discover how much time you spend on certain apps or websites, including Word, Facebook, or email. This data provides an easy-to-read breakdown of your time so you can spot opportunities for adjustment and optimization. Data-driven insights mean no longer making "gut instinct" decisions on how to improve your productivity.