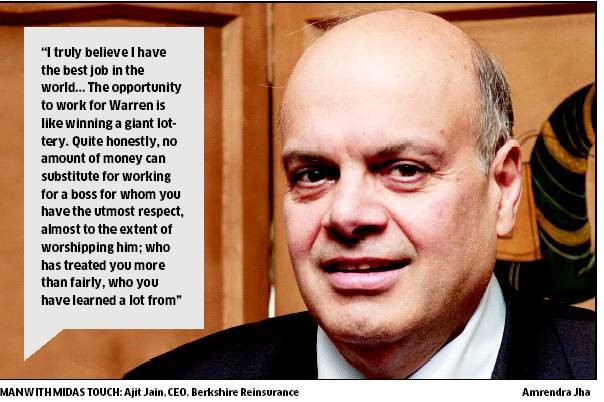 Ajit Jain, a publicity-shy IIT Kharagpur alumnus who heads the US-based Berkshire Hathaway Inc`s insurance group, has donated to his alma mater an unspecified quantity of his stock holding in employer Warren Buffett`s conglomerate.
Continuing to shower praise on him, billionaire investor Warren Buffett has said Ajit Jain's mind is an "idea factory" that always looks to add more lines of business to his current assortment.
Buffett has been consistent in his praise for Indian- origin Jain, one of the key executives at the investor's sprawling Berkshire Hathway business empire.
Jain, associated with Buffett for nearly three decades, has long been speculated as being a potential candidate to succeed the octogenarian investor at the conglomerate. From a standing start in 1985, Ajit has created an insurance business with float of $37 billion and a large cumulative underwriting profit, a feat no other insurance CEO has come close to matching.
Ajit Jain (born 1951 in Orissa, India) is an Indian born employee of Berkshire Hathaway who currently heads several reinsurance businesses. He was raised in India's coastal state of Orissa. He is a strict vegetarian because of his religion, Jainism. Ajit Jain is an older cousin of Anshu Jain, who was the former Co-CEO of Deutsche Bank.
In 1972, he graduated from the IIT Kharagpur with BTech degree in Mechanical Engineering. From 1973 to 1976, Jain worked for IBM as a salesman for their data-processing operations in India. He was named "Rookie of the Year" in his region in 1973. He lost his job in 1976 when IBM discontinued their operation in India because they declined to allow any Indian ownership of the company, as was then required by law.
In 1978, he moved to the United States, where he earned an MBA from Harvard University and joined McKinsey & Co.. He returned to India in the early 1980s and married. They then moved back to the United States, as his wife preferred to live there.
In 1986, he left McKinsey to work on insurance operations for Warren Buffett. Jain was invited by his former boss, Michael Goldberg, who had left McKinsey & Co to join Berkshire Hathaway in 1982. At the time, he said he knew little about the insurance business.
In the annual letter to shareholders on 2014, it is suggested that both he and Greg Abel could be appropriate successors for Warren Buffett as CEO of Berkshire Hathaway. Jain lives in the New York City area, in the U.S. state of New York.
In 2005, Ajit Jain established the Jain Foundation, a non-profit organization located in Seattle, Washington, the mission of which is to cure limb-girdle muscular dystrophies caused by dysferlin protein deficiency, a condition that Jain's son has. Plavi Jain Mittal, who earned her PhD in molecular biology from Brandeis University, was the initial President and CEO. In May 2017, Mittal formed In-Depth Diagnostics, a non-profit organization providing free whole-genome sequencing and analysis to people with rare diseases.
Please view the link below to see what Warren Buffet has to say about Ajit Jain.