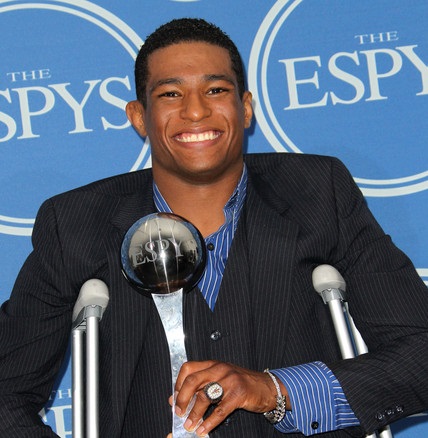 "Every soul who comes to earth with a` leg or two at birth must wrestle his opponents knowing it`s not what is, but what can be that measures worth. Make it hard, just make it possible and through pain, I won`t complain. My spirit is unconquerable. Fearless I will face each foe for I know I am capable. I don't care what`s probable, through blood sweat and tears I am unstoppable."
- Anthony Robles
On July 20, 1988, the doctors were not prepared when, Judy Robles, age 16, gave birth to a baby boy who was missing his right leg. The doctors could not explain what went wrong or why Anthony Robles was missing a leg. His mom, however, always told him growing up that "God made him this way for a reason" and she made him believe it. He finally realized what that reason was when at the age of 14, in Mesa, Arizona; he tried out for the wrestling team. The first year was horrible. Anthony was the smallest kid on the team weighing in at a whopping ninety pounds and without question, the worst wrestler; finishing first year with 5-8 record and in last place at the Mesa City wrestling tournament. Not many people believed that a tiny kid born with one leg, the worst wrestler in the city, would ever excel in such a demanding sport. However, with the support of family and coaches, he believed he could one day be a champion wrestler; he believed that he could be UNSTOPPABLE. Despite various obstacles along the way, he went from being last in the city to finishing the junior and senior years at Mesa High School with a 96-0 record, a 2-time Arizona State Champion and a high school National Champion. Despite finishing with an awesome high school record, few college wrestling programs believed he could excel at the next level. They thought he was too small to wrestle in college and that a one legged wrestler could never compete with the nation`s best college wrestlers. Anthony`s mom raised him with his head in the clouds, so he believed he could do anything; could achieve anything. This way of thinking compelled him to walk onto the Arizona State University wrestling team to prove to them, and the world, anything was possible. Through trials and hardships, both on and off the wrestling mat, he finished as a 3-time All-American and the 2011 NCAA National Champion.
At the age of 3, the doctor thought Robles would walk better with a prosthesis and fitted him with a heavy artificial leg. The boy promptly took it off when he got home and hid it behind a piece of furniture. At five, he shinnied 50 feet up a pole outside his house.
But if Robles was willful and assured by nature, a childhood of being stared at and taunted eventually saddled him with terrible self-consciousness. "I wanted to fit in so badly," he later said of his elementary and junior high school years. "For a while I tried to hide ` to be camouflaged." But the bullies were not put off, and Robles gave up trying to disguise his differences.
What Robles did accomplish in that first season, and then throughout his life was largely psychological. Standing nearly naked in front of his peers started him, as he had hoped it would, on a long march back to feeling comfortable with his body and his identity, a feeling he had not known since he was a toddler. "Wrestling helped me come out of my shell," Robles has said. "It forced me to say, 'This is who I am.'" If it seems paradoxical that this metamorphosis began with Robles's being repeatedly trounced by his opponents, it may have been that he was learning to substitute the punishments they dispensed for the ones a self-reproving teenager inflicts on himself. Life is full of abuses, Robles knew, even at 14`the trick is to find the ones that offer the promise of redress.
Once, when his coach at Mesa (Ariz.) High, Bob Williams, was unhappy with the team's performance at a meet, he had them run laps while holding 20-pound sandbags as punishment. Williams didn't intend to include Robles, but before he could stop him, Robles was hopping around the track on his left leg, holding a sand bag. He quickly fell, then got up again. He hopped a bit farther, then went down again, and rose again. On it went -- hopping, falling, and getting up while his teammates ran. Robles didn't stop until the rest of the team did.
And that's why nobody felt bad for Robles when he had -- temporarily, as it turned out -- fallen short of his goal to win the NCAA title. The world had realized that to him, it was just another fall, and that Robles would simply get up again. He always does. Although the competition days on the mat are over, he will continue to wrestle the opponents life brings his way all the while believing that- `I am UNSTOPPABLE.`