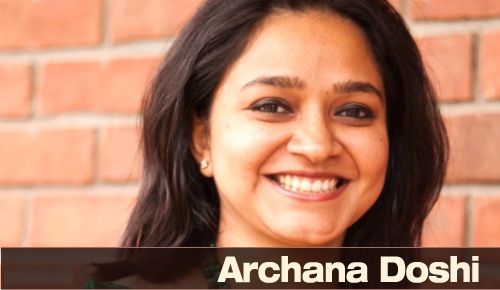 Being able to work on something you are passionate about and work from home and be financially independent, take care of family and also be famous. Does this sound too good to be true, well here is the story of a woman who does exactly this and is super successful at it
Archana Doshi, of Archana`s Kitchen fame, has more than enough reasons to be happy with her life. This professional food blogger who has been featured in the ad campaign by Google on women entrepreneurs, enjoys a readership that is in the millions. Her Youtube channel, Facebook page and Pinterest account are full of ardent fans, who swear by her recipes.
`Archana was brought up in Coimbatore and moved later to Chennai. She was a software engineer and she lost her job in the dot com bust, she had children to support and wanted financial independence. In the process she also realized that she did not want not get back into the engineering line as it would involve taking time away from her children.
Archana started dabbling with the idea of starting something related to food and cooking for almost three years. She started her own small catering business and then she took cooking classes at home. Though this gave her the grounding in the space, she was destined to do much more.
Her love for cooking was evident in the way she even made food for her child. Even as infants her kids never had to eat anything packaged that normally babies consume, it was all cooked by her. This is when Archana`s friends encouraged her to pen down the recipes as these kids recipes were not available anywhere online. This was the genesis of Archana`s Kitchen; this is the time she started putting her own the recipes in her blog. The response she got soon made her realise that this online space has huge potential and she then focused on building her web site.
Archana equipped herself with all the tools available and learnt the ropes of the online business quickly. Slowly and steadily the reach was increasing and most importantly the advertisers were taking notice of Archana`s Kitchen.
Way back in 2011 is when she got a big break, when Google featured her in ads, the first ever add on tv which was chrome, and saying that this is Archana`s kitchen look at her she is sitting at home, creating recipes and people are viewing her recipes and she is monetizing, they were not promoting her but it was a chrome ad, but that made her realise that there is a huge potential in the internet space in internet space.
Moving to the audio-visual platform was the next step for Archana and choosing YouTube was a no brainer. Initially she did the video shoot, editing uploading all on her own, which in turn was a great learning for her and now she has a small team who works for her. Currently she works with bloggers and nutritionists from around the world. `She has 31855 followers on her youtube channel, 3,50,657 followers on facebook, 3.5 million viewers on her Blog, 800 000 followers on google plus
She loves world cuisine and travel for her means tasting the food of that region. Though pre-dominantly Indian cuisine is in offer in Archana`s Kitchen one can also get an experience of a healthy vegetarian cuisine on the list.
Her husband has been the sole driver to build my passion into a business. His unmatched support even at the times when I wanted to give up cannot be described.` He plays an equal part in running the home and we share our responsibilities and have a great work life balance.