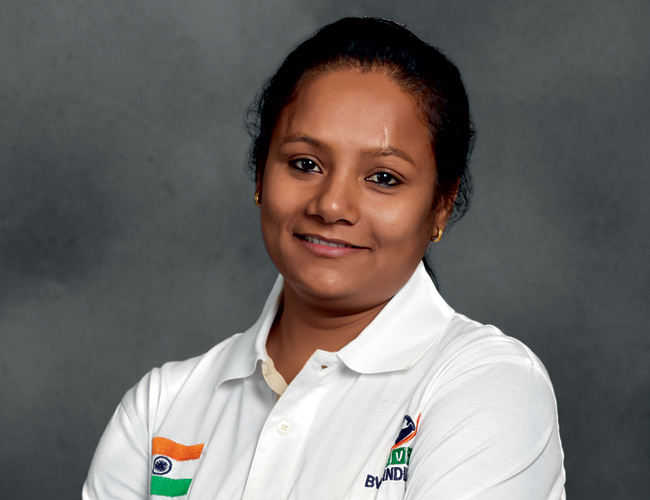 Arunima Sinha (born 1988) was the first female amputee to climb Mount Everest. She was also the first Indian amputee to climb Mount Everest. Sinha, a former national volleyball and football player,boarded the Padmavat Express train at Lucknow for Delhi on 11 April 2011, to take an examination to join the CISF. She was pushed out of a general coach of the train by thieves wanting to snatch her bag and gold chain.
Immediately, as she fell on the railway track, another train on a parallel track crushed her leg below the knee. She was rushed to the hospitai with serious leg and pelvic injuries, and lost her leg after doctors amputated it to save her life.
While still being treated in the All India Institute of Medical Sciences, she resolved to climb Mount Everest, She was inspired by cricketer Yuvraj Singh, who had successfully battled cancer, "to do something" with her life. She excelled in the basic mountaineering course from the Nehru Institute of Mountaineering, Uttarkashi, and was encouraged by her elder brother Omprakash to climb Everest with a prosthetic leg, which was arranged by raising funds with the help of a swami of Ramakrishna Mission, Vadodara.
She contacted Bachendri Pal, the first Indian woman to climb Mount Everest, in 2011 by telephone and signed up for training under her at the Uttarkashi camp of the Tata Steel Adventure Foundation (TSAF) 2012. Sinha climbed Island Peak (6150 metres) in 2012 as preparation for her ascent of Everest.
On 1 April 2013, Sinha and Susen Mahto, a TSAF instructor, who had together climbed Mount Chhamser Kangri (6622 metres) in 2012 under the guidance of Bachendri Pal started their ascent of Mount Everest. After a hard toil of 17 hours, Sinha reached the summit of Mount Everest at 10:55 am on 21 May 2013, as part of the Tata Group-sponsored Eco Everest Expedition, becoming the first female amputee to scale Everest. She took 52 days to reach the summit.
Arunima Sinha is now dedicated towards social welfare and she wants to open a free sports academy for the poor and differently-abled persons. She is donating all the financial aids she is getting through awards and seminars for the same cause. The academy would be named Pandit Chandra Shekhar Vikalang Khel Academy.
She has written a book "Born again on the mountain", launched by Prime minister of India Narendra Modi in December 2014.
She was awarded Padma Shri, the fourth highest civilian award of India, in 2015.
To view her inspirational story please click on the link below :
Source: Wikipedia