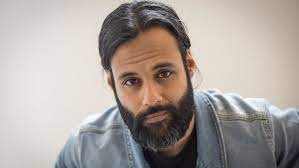 Baiju Bhatt, the Indian American co-founder of the trading unicorn Robinhood, has become the latest Indian American billionaire thanks to the stunning growth of the financial services company.
Robinhood, a no-fee stock trading app, has upended Wall Street by allowing "little guys" with limited resources to invest in stocks
Born to Indian immigrant parents from Gujarat, India, Baiju Prafulkumar Bhatt grew up in eastern Virginia on the Atlantic coast. His parents moved to the United States in 1984, when his father Praful Pranlal Bhatt enrolled for a PhD program in theoretical physics at University of Huntsville, Alabama. After completing his high school, Bhatt moved to the West Coast to do under-graduation at Stanford University in physics, following in his father's footsteps.
After earning his B.A. in physics, Bhatt stayed at Stanford to earn his master's in mathematics as well. It was then he and Tenev became classmates and roommates.
Bhatt and Tenev started two companies in New York together before they launched Robinhood, an idea that was inspired by the "Occupy Wall Street" movement in New York. They came to the realization that there was an entire untapped market of potential small investors that were deterred to trade because of fees or minimum account balances. Thus, the two friends decided to make their app free, letting people trade stocks without any fees.
Bhatt stepped down from his position as the company's CEO in November 2020, leaving Tenev as the single CEO of the company. The change in leadership was a move made so that Bhatt could direct his attention more to product development.
Today, 17.7 million people use the app each month. More than half of which are first-time investors.