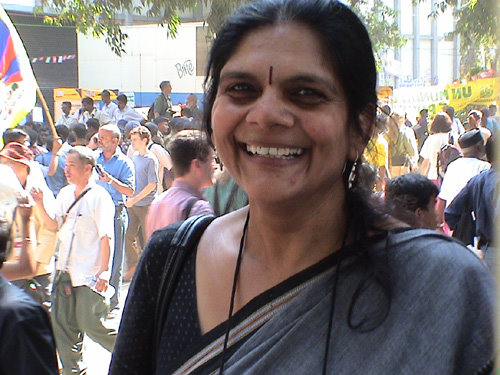 Born in Mumbai, Chetna Gala Sinha earned her Masters degree in Commerce and Economics at the Mumbai University in 1982. She is empowering women in drought prone areas of rural India by inculcating entrepreneurial skills and providing them access to land and other means of production.
In 1997, when Sinha started the bank in Mhaswad, a small village in the Satara district of Maharashtra with a semi-literate workforce of women from the same village, she wanted to provide loans to help farmers recover from their economic condition. But 15 years later, she has managed to do more than just that.
Today, despite facing over 8 to 10 hours of load shedding in a day, the bank has managed to successfully introduce both computerised and door-to-door banking to offer its services to over 1,80,000 women across`nine districts in rural Maharashtra and Karnataka, which includes Satara, Solapur, Sangli, Raigarh, Ratnagiri, Pune, Kolhapur, Hubli and Dharwad.
Of these, over 1,55,000 women are savings account holders; most of them earn less than Rs 50 a day.
Since then it has managed to train over 46,000 women in vocational and entrepreneurial skills, of which over 24,000 have gone on to pursue entrepreneurship after receiving professional training.
Further, to look after the needs of several underprivileged women entrepreneurs, in 2012, Sinha partnered with New York-based Clinton Global Initiative (CGI) to set up the Manndeshi Chamber of Commerce for Rural Women (MCCRW), a first of its kind Chamber of Commerce for rural women in India. The MCCRW aims to both mentor and address the grievances of women entrepreneurs in rural India.
In 2002,`she was appointed as a World Fellow to Yale University and in 2003, she was recognised as the Bridge Builder by the Harvard University, USA. She`has also been named the winner of the 2013 India Social Entrepreneur of the Year awards presented by the`Schwab Foundation for Social Entrepreneurship`(a sister organization of the World Economic Forum) in partnership with the`Jubilant Bhartia Foundation.
Please view the link below for `inspiration from this amazing lady.