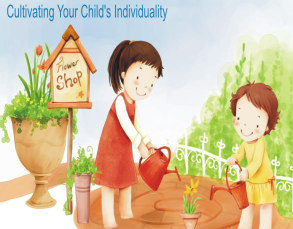 Many parents find it really challenging to cultivate their children's individuality. After all, it is only natural for them to feel that they should always be at their children's side, to provide their needs, to shield them from danger, and to nourish them both physically and emotionally. Let Them Do It ! The ideal period to teach children responsibility and nurture independence is during their early years. Your children try to copy you as soon as they are born. Young children try out tasks reserved for adults, eagerly taking on new challenges. To learn to be independent is to establish autonomy. Being independent makes children feel a very strong sense of self-esteem. Children feel good about themselves when they make their own choices. This means that pride in themselves is the greatest motivator. Enhancing Your Child's Self-Reliance There are many practical ways to teach your child self-reliance:
Set Up Rules and Limits :

Teach your child to be more responsible for his toys and room. Always remind him to put his toys to their proper places before the day ends or after playing. Segregate toys according to type to help your child locate things more easily. Storage boxes will help.
Organize Your Household :

Organize your household to help your child help himself. Provide an environment that fosters independence. Place the garbage bins and laundry basket where your child can easily access them. Put clothes in lower sections of drawers to encourage him to choose his own. Putting cutlery and on lower drawers and shelves will encourage your child to choose his own eating utensils or to help set the table.
Anticipate Messes and Spills :

When children feed themselves, expect spills all over. If you impose tidiness and neatness, your child will not learn to do it himself. You can limit messes and spills by giving your child eating utensils that are not difficult to use. You can also provide him enough space for him to feed himself, and a space where you can clean the spills easily.
Assign Housework :

Allow your child to help with household tasks and give them simple, age-appropriate chores. If he becomes interested in helping you hang out the laundry, have him hang handkerchiefs, socks, and other small items to a rack low enough for him to reach. You can ask your child to sort socks and handkerchief according to colour while you do the folding.
Learn By Experience :

Give your child the opportunity to decide for himself and to cope with the consequences. If he always forgets to take his pencil to school, rushing it to him always will not work. Your child must take responsibility for his own actions, and he has to learn from his own mistakes even if it means facing the consequences. You should work out a plan with your child to help him remember the pencil.
Slowly but Surely :

Introduce tasks gradually, one simple step at a time. For example, for a start, have your two year-old son to put his shorts on. If the child puts his two legs into one hole, say to him that that is a problem. Then ask him how he solves it. Guide him through the entire problem solving process.
Our children learn something through practice and repetition, through trial and error. In time, they will become more competent.We should allow our children to experience the feeling of success and failure, which largely contributes to their development of self-concept. It may be very difficult for us to witness our children fall and get up with their first few steps. The thing is they are more resilient than we give our children credit for.You must be very patient while they struggle. Give them enough time to put their shorts on or tie their own shoelaces. Many children are so much determined to finish a task on their own that they will reject their parents' initial help. Always assure them that you are on their side. Don't be upset when they shun your assistance. Give them the satisfaction to do things for themselves, even when tasks are often not properly done. A Long and Windy Road Ahead Don't feel you burden your child when you assign him household tasks. Bear in mind that you are giving him an opportunity to contribute to the family in every way. In addition, working alongside with your child builds intimacy and fosters open parent-child communication.
Nurturing independence is a difficult process for parents. As they mature, you need to understand their decisions by listening to them. Listen to what they think about the chores. You also need to talk it through, allowing them to communicate their feelings of anger, apprehension, and doubt, if any. How parents respond to their children's initial efforts to attain independence establishes how children see themselves early in their lives. In the long term, they will become self-sufficient individuals who are capable of helping themselves and others as well.