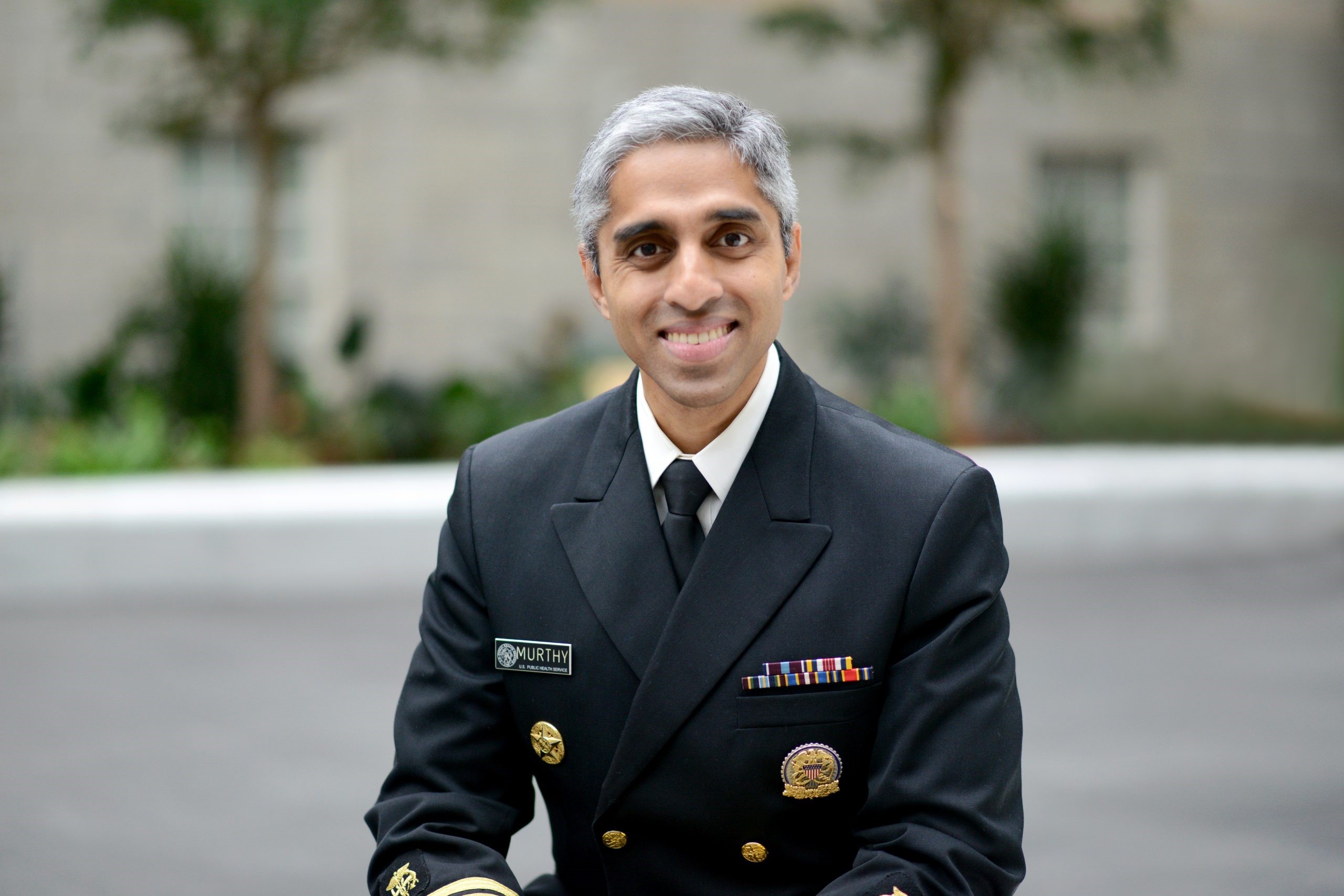 Vivek Hallegere Murthy (born July 10, 1977) is an American physician and former vice admiral in the Public Health Service Commissioned Corps who served as the 19th Surgeon General of the United States. Murthy, who founded the nonprofit Doctors for America in 2008, was the first Surgeon General of Indian descent and, while serving in office, was the youngest active duty flag officer in federal uniformed service.
Murthy was born in Huddersfield, England, to immigrants from Karnataka, India. In 1978 the family crossed the Atlantic to Newfoundland, where his father worked as a District Medical Officer. When he was three years old, the family relocated to Miami, Florida, where his parents established a medical practice. Murthy was raised and completed his early education in Miami, graduating as valedictorian from Miami Palmetto Senior High School in 1994. He then attended college at Harvard University, where he graduated magna cum laude in 1997 with a Bachelor of Arts in Biochemical Sciences. In 2003, Murthy earned an MD from Yale School of Medicine and an MBA from Yale School of Management, where he was a recipient of The Paul & Daisy Soros Fellowships for New Americans.
While a Harvard freshman in 1995, Murthy co-founded VISIONS Worldwide, which he led for eight years. The non-profit organization focused on HIV/AIDS education in the U.S. and India. In 1997, he co-founded the Swasthya Community Health Partnership to train women as community health workers in rural India.
Murthy completed his Internal Medicine residency at Brigham and Women's Hospital and Harvard Medical School in Boston, Massachusetts where he also led and managed medical care teams as a faculty member.
In 2011, Murthy was appointed by U.S. President Barack Obama to serve on the U.S. Presidential Advisory Council on Prevention, Health Promotion, and Integrative and Public Health within the U.S. Department of Health and Human Services. The group advises the National Prevention Council on developing strategies and partnerships to advance the nation's health through prevention.
Murthy is also the co-founder and chairman of TrialNetworks, a cloud-based Clinical Trial Optimization System for pharmaceutical and biotechnology trials that improves the quality and efficiency of clinical trials to bring new drugs to market faster and more safely. He founded the company as Epernicus in 2008 to originally be a collaborative networking web platform for scientists to boost research productivity.
During his tenure, Murthy created initiatives to tackle the country's most urgent public health issues. In releasing the first-ever Surgeon General's Report on Alcohol, Drugs, and Health, Murthy worked with the nation's leading researchers to compile the latest scientific data on addiction and issued a call to action to the nation to recognize addiction as a chronic illness, not a moral failing. He worked with Republican and Democratic elected officials and hundreds of partner organizations to bring attention to this critical issue and to expand access to prevention and treatment.
Additionally, he launched the "TurnTheTide" campaign and sent a personal letter to millions of health care professionals urging them to join a movement to tackle the opioid epidemic. The unprecedented letter sparked opioid-related initiatives in healthcare settings across the country. Responding to a growing chorus of questions from parents, teachers, and lawmakers, he also released the first Surgeon General's Report on E-cigarettes Use Among Youth highlighting the health risks of e-cigarette use for youth.
From the beginning of his tenure, Murthy spoke about the importance of creating a culture of prevention in America, one that is grounded in physical activity, nutrition, and emotional well-being. As part of this effort, he issued Step It Up! The Surgeon General's Call to Action to Promote Walking and Walkable Communities. For the one-year anniversary of the Call to Action, he led a two-week public- private partnership with Fitbit called the Step it Up Challenge that engaged over 600,000 people to increase their physical activity with an industry record-setting 60 billion steps. He also partnered with Elmo and Top Chef to inform the country about vaccines and healthy eating, respectively.
Since the second half of 2017, Murthy has appeared on various TV and radio shows talking about the problem of loneliness, and has written numerous articles on the subject. Murthy states he was shocked by how often he encountered people suffering from severe loneliness during his medical career, and argued that loneliness in America has become prevalent enough to count as an "epidemic". Murthy sees loneliness as a root cause which plays a substantial role in many other social problems. In April 2020 he published a book about what both society and ordinary people as individuals can do to reduce loneliness in themselves and others, titled Together: The Healing Power of Human Connection in a Sometimes Lonely World. Please click on the link to view an interview of him on loneliness.