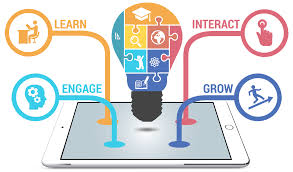 Engaging Your Children's Brains: Top Educational Apps For Kids
Over the last couple of decades, the education industry has undergone a huge transformation. With the arrival of apps, learning has become easily accessible, which makes it much more interesting for students of all ages. Educational apps now bridge the communication gap between not only parents and teachers, but also kids and teachers. Childhood is important for learning. And because children become smarter and smarter, there is great need to introduce different, advanced learning means and methods. In this article, let's throw some light on the top educational app for kids.
1. ClassDojo
ClassDojo is an interesting learning app for kids in the category 'virtual classroom learning apps'. This app allows parents, students, and teachers to interact with each other. For instance, students can communicate with their teachers regarding their educational needs, and parents can stay up to date with their children's progress.
2. Duolingo
When you are looking a simple way to make your kid learn a foreign language, Duolingo comes as one of the best options. This app offers learners a variety of languages including Spanish, Dutch, Danish, French, German, Italian, Irish, and even English. Completely free to download and use, Duolingo dosn't have any hidden fees and the in-app purchases are kept optional. On the top of that, this app is incredibly effective and fun.
3. DragonBox
Full of fun activities, the DragonBox series is an educational game that teaches Math fundamentals making learning fun and interesting. There are 5 learning apps for learning Math in total, including algebra and geometry. Some people take Math very seriously; however, Math can be fun for children if taught at a young age using simple concepts. All 5 games in the app require up-front payment but don't have in-app purchase charges.
5. YouTube Kids
Exclusively made and curated for kids, Youtube Kids offers educational videos and entertainment content to inspire and enhance young minds. It's one of the best learning apps for kids out there, as it offers them an easy way to watch their favorite shows. Moreover, they can explore anything that captures their imagination. This app is available for free use, simple to handle, and offers kids-oriented and family-friendly videos.
6. Science360
This is an app created by the National Science Foundation. It is exclusively built for tablet users only to showcase advanced science, engineering news images, and videos for children. All content available is authentic, high-quality, and updated every week. The content is also produced by the NSF or gathered from scientists and universities around the world.
7. Flow Free
This puzzle game is interesting for both the adults and kids. There are 2,000 puzzles available for free. However, there is also addition purchase option for expansion packs.
8. Spelling Stage
Kids may usually find spelling words difficult, but with this app, they can be interested in spelling practice. The paid subscription offers a wide range of words for different age groups, from preschoolers to adults.
9. My Molecularium
One of the most entertaining educational apps, My Molecularium is designed so that High School students can study with a fresh mind. The fun games in this app encourage students to easily understand and learn chemistry concepts related to molecular structure, chemical formulas, and skeletal formulas.
10. Khan Academy
Khan Academy is a non-profit educational organization created in 2005 by Salman Khan with the goal of creating a set of online tools that help educate students. The organization produces short lessons in the form of YouTube videos. Its website also includes supplementary practice exercises and materials for educators.
11. Socrative Student
Socrative is a free web application that offers an easy and friendly experience to teachers to engage and assess their students. It is a full-featured application that can be used on Android and iOS devices.
12. Photomath
Photomath is a mobile application described as a "camera calculator", which utilizes a phone's camera to recognise mathematical equations and to display the step-by-step solution onscreen. It is available for free on Google Android and iOS.