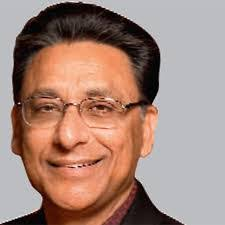 Father of the Pentium Chip – Vinod Dham
Vinod Dham is an engineer, entrepreneur and venture capitalist. He is popularly known as 'Pentium Engineer' for his contribution to the development of highly successful Pentium micro-processor of Intel Co. of USA. He is a mentor, advisor and sits on the boards of many companies, including startups funded through his India-based fund Indo-US Venture Partners, where he is the founding managing director.
Vinod Dham's accomplishment as 'Pentium Engineer' and as an Indian-American technology pioneer from Silicon Valley is being celebrated at a first-ever exhibition on South Asians in National Museum of Natural History at the storied Smithsonian in Washington, D.C., highlighting Indian-Americans who have helped shape America.
Vinod Dham was born in 1950. His father was a member of the army civilian department who had moved from Rawalpindi, Punjab, Pakistan to India during the Partition of India. Dham graduated with BE degree in Electrical Engineering from Delhi College of Engineering in 1971 at the age of 21. At the age of 25, he left his family in Delhi (India) to study for MS degree in Physics (Solid State) in the USA, arriving with just $8 in his pocket.
After completing a BE degree in Electrical Engineering in 1971, he joined Delhi-based semiconductor manufacturer Continental Devices, one of India's only private silicon semiconductor start-ups at the time which collaborated with Teledyne Semiconductor Company, USA. He was a part of the early team that put together a facility in Delhi and worked there for four years. It was while he worked at this company that his love for semiconductors bloomed. He found it to be a very exciting field because it applied knowledge he had learned as an Engineer and decided that he needed deeper understanding of the Physics behind the behavior of the semiconductor devices.
In 1975, he left this job and went to University of Cincinnati, in Ohio to pursue an MS degree in Physics (Solid-State). After getting MS degree in 1977, he joined NCR Corp in Dayton, Ohio, as an engineer; there he did cutting-edge work in developing advanced non-volatile memories. Joining NCR was not a planned career move though. At the University of Cincinnati when NCR needed help Dham was the student in his class who had worked longest in semi-conductors. His leading-edge work on non-volatile memories helped NCR get a patent in 1985 on mixed dielectric process and non-volatile memory device.
He then joined Intel Co. as an engineer, where he led the development of the world-famous Pentium processor. He is called the "Pentium Engineer" for his role in the development of the Pentium Micro-Processor. He is also one of the co-inventors of Intel's first Flash Memory Technology (ETOX) He rose to the position of Vice-President of Micro-Processor Group at Intel Co.
His role as a Project Manager of Pentium Chip was acknowledged the world over. He left Intel Co. in 1995 and joined the startup NexGen, which was subsequently acquired by AMD. Dham played an instrumental role in the launch of K6 – the "Pentium killer" processor at rival AMD Co. He held the vice president position of AMD's Computation Products Group. He then went on to lead a nascent startup, Silicon Spice in April 1998, which he re-directed to build a VOIP chip and sold it to Broadcom in 2000. He then launched an incubator NewPath Ventures,where he co-founded companies with an objective of using India's emerging talent in chip design for R&D. He is currently Managing Director and founder of Indo-US Venture Partners, an early stage India focused fund that he founded after NewPath. Er.Ing.Dham has over the years been a Board member and Tech Advisor to dozens of Private and Public Companies world-over!
In February 2015, Dham announced his return to entrepreneurship as the co-founder and CEO of Acadgild, an online educational platform he co-founded with India's storied entrepreneur duo-Krishnan Ganesh and Meena Ganesh of Tutorvista fame. Acadgild aims to teach just about anybody, including a Class 10 student; Software Programming that is relevant to today's rapidly evolving digital world. Unlike many existing online courses that rely on videos; Acadgild provides live mentoring and hands-on engagement for building real applications for its students. It will also include building two applications, thus preparing the students for job ready skills and a more effective way for their perspective employers to evaluate them.
Er.Ing.Dham and his wife Sadhana are donors to many causes in the USA and India. He has been a trustee of American India Foundation (AIF)since 2001 along with many other noted luminaries. Former President Bill Clinton serves as the honorary Chair. In July 2006; he was named to Board of Directors and was appointed Chair of the Digital Equalizer (DE) Program with a mission to provide underprivileged children in India with the opportunity to enhance their learning through use of digital technology in scalable and sustainable manner. As Chair of the DE Program, he led the program's strategic direction and growth. He has been actively involved in the fund-raising and was awarded the Visionary Award for his DE work by Montek Singh Ahluwalia in 2010
In 1993, Dham was named one of the Top 25 Executives in the US Computer Industry. In 1999; he was named one of the top 100 Most Influential Asian Americans of the decade. In 2000, he was appointed to serve on the President's Advisory Commission on Asian Americans and Pacific Islanders by President Bill Clinton. Please view the link below to know about his road to success and get inspiration from it.