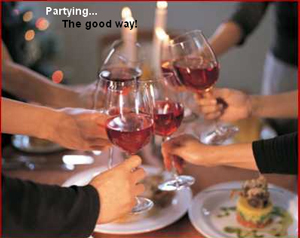 As the year draws to a close, everyone is gearing up to celebrate the year that was and to usher in the new. It is a great time to meet up with friends and a great opportunity to make new friends. While partying is a very common social gathering, yet the courtesies and consideration required are not that common. Here are some helpful tips for the host and the guest to keep in mind at a party: For the Host
Be sure of whom you want to invite

As a host, you may find yourself to be a little anxious as organizing a party means keeping the needs of a number of people in mind. Let these be people whom you really love to be around. A lot of energy, effort and resources are going to be invested in it so you must choose who you are willing to do that for.
Have sufficient options

List the preferences of your guests` much ahead of time so that you can arrange for suitable and sufficient options for everyone. A party is not a test of your individual organizing capability, rather an occasion for everyone`s enjoyment. Do not hesitate therefore to take suggestions for the menu as well as well as quantity.
Use simple decoration ideas

People will always remember great food served with warmth than pompous decoration and average food. Fresh flowers and a little creative lighting either with candles or what is available to you should be enough. Select good music which everyone will enjoy. Conserve your energy for the preparing and arranging the food.
Expect some damages and spillages

Since everyone is not going to be on their strictly guarded behaviour, a little spillage or breakage due to oversight is normal at a gathering. Do not lay out anything too exotic or too precious as it is impolite to ask your guest to be `careful` with it. Reserve such items for a very private dinner party of just a few people.
Be a sport yourself

The best way to ensure your guests are at ease is to enjoy the party yourself as well. Few things may go wrong, but let that not dampen the party spirit. Do not embarrass your guests by losing your calm. A good idea is to not overwork yourself and have enough time to get ready before your guests arrive.
Allow your guests to participate

Many of your guests would like to extend a hand. Allow them to participate by sharing small chores. It will keep you free to attend to more things. Some hosts feel uncomfortable allowing their guest to assist. That is very unnecessary, because everyone wants to be useful as they understand that you have put a lot of effort already. And no one wants the host to be stuck up in the kitchen!
Respond when needed

If you see two of your guests not getting along well, intervene subtly and politely. Since they are both your friends, you need to take care of both. If you notice irresponsible behaviour especially with alcohol, be firm about calling a cab and do not let them drive. As a friend, you cannot overlook the responsibility to ensure they return home safely.
For the Guest
Be mindful of your host`s neighbourhood

Often guests do things which upset the neighbours and landlords and damage the goodwill among them. Being too noisy, parking inappropriately, and littering, to mention a few such actions. Be considerate and courteous to your host by showing respect to his neighbours.
Bring a snack to share

The most basic of courtesies to be shown when you are invited is to take a popular snack and enough that everyone can share. Everyone appreciates a `little extra` at a party. If you cannot think of something, and do not know another fellow guest from whom you can take advise; it is best to consult the host. You may have to humbly insist as your host could be a little hesitant.
Enjoy the company of new people you meet

A party is a great way to broaden your network. It is relaxed, informal and friendly. You may meet someone with whom you can forge a great relationship as a friend. Meeting new people and enjoying listening to them and their unique sense of humour is a healthy way to unwind. It also puts your host at ease when you are comfortable around the other guests.
Choose non-controversial and broad topics to talk about

Some people are anxious in a social setup like a party as they have little experience of talking to people outside their immediate circle. One simple rule is to not make any personal comment or critical remark. Music, sports, recent movies, restaurants make good topics for conversation.
Appreciate the host`s efforts to put up the entire event

It may sound clich`d, but appreciating your host`s efforts is a very polite and pleasant gesture which your host will remember always. Your host has taken special effort from his/her schedule to arrange everything to ensure you as their guest have fun. It is natural to express gratitude.
Help with the winding up as far as possible

Organizing a party must have taken a lot of effort for your host. Helping to wind up after all the fun is courteous and considerate. There are bound to be spillages and little unintentional mess. Extend your hand for the host. It may encourage other guests to chip in as well. It earns you respect and admiration from your host.
If you need help, ask

If you feel uncomfortable or unexpectedly sick take help of your host to arrange you a cab on the way back. Do not drive if you have consumed alcohol. It makes your host feel guilty and brings an unpleasant end to the party. Be moderate, enjoy safely and responsibly.`
Think Link wishes you a merry time connecting with your friends and family!