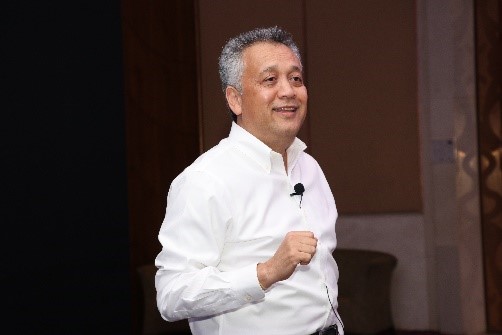 "It is not enough to do one's best, one must know what to do, and then do one's best." W. Edwards Deming.
An Article by Vijay Michihito Batra
When I went to America in 1983, at the age of 20, my American English abilities were very limited. So, I was encouraged by my Guardian Late Dr. Manmohan S. Luthra (Moini Uncle to me and many others) to work part-time in a grocery store. After attending college classes, in the evening I started working part-time in a grocery store Shop N Save. I got the job easily as the store owner was a friend of Moini uncle.
The first-day Moini uncle went to drop me off before my shift, as I was touching his feet to seek his blessings, I remember he told me "Son do the following three things to all the customers who you meet in the store, 1. Smile when you make eye contact, 2. Greet them enthusiastically, 3. Offer your assistance, by asking loudly, How may I help you?"
I did the three things I was told with total commitment and with a lot of excitement and soon I became super engaged in my job and I would look forward to my shift. As a result, I started assimilating into the American culture, as the frequent shoppers and other workers in the store would go out of their way to teach me the American English, and the American ways.
I may not have learned every syllable of the American English or picked up the American accent, but I realized, American English is a tool, and not an art form to be mastered. What needs to be mastered are the three things Moini uncle taught me.
Interestingly, in 1984 in the month of June, I saw my first movie in an American theater, and the movie was Karate Kid. The movie is about a Karate teacher teaching the Kid, what to do.
In February of 1987, at the age of 24, I returned to Japan after 19 years. I started working in a Japanese Investment Bank in Tokyo. I started re-learning the Japanese language and assimilating into the Japanese culture, by doing what my uncle had taught me in 1983. Smile while making eye contact, greet enthusiastically, and offer assistance and do the best while assisting. Again, I didn't learn every syllable of the Japanese language, for I had realized that the language is a tool, what needs to be mastered remains the same, across countries around the globe.
In 1999 at age 37, I returned to India, I knew one thing, the three things to be mastered remain the same.
I thank Moini Uncle, my Guru, my uncle, who taught me what to do. 1. Smile while making eye contact, 2. Greet enthusiastically 3. Offer my assistance and then assist with humility and excitement. My pursuit is on...
ਬੋੱਲ ਸੋ ਨਿਹਾਲ, ਸਤਿ ਸ਼੍ਰੀ ਅਕਾਲ (Bole So Nihal, Sat Sri Akaal) it means Shout out loud in ecstasy... True is the Great Timeless one.