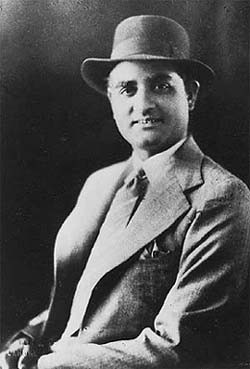 KUNDAN LAL SAIGAL
`From a School Dropout to `Diya Jalao`...
Kundan Lal Saigal was really the first male superstar of Indian cinema who set the tone for musical melodrama acting in the 1930s and 40s. Though not conventionally good-looking and balding, people responded to his everyman demeanour and to that voice`even when articulating dialogue.
Saigal was born in Jammu and as a child occasionally played Sita in the Ramila of Jammu. His only formal training apparently came from a little known Sufi peer, Salman Yussuf. The singing tradition he assimilated had little classical rigour but emphasized the poetic blending of syllables into musical forms like the thumri and ghazal. It is said that as a youth he used to sneak near the house of a local tawaif so that he could hear her sing; afterwords he would imitate what he heard.
`His renditions of Mirza Ghalib`s poetry and his identification with its tragic iconography formed the famous Saigal persona.
A school dropout, he worked first as a railway timekeeper and then as a typewriter salesman before B.N. Sircar recruited him at New Theatres. All the time that he was travelling in his job, he was singing on an amateur basis.` He used to sing in gatherings with friends and met many people.` On one occasion he met Meharchand Jain; he would become one of Saigal's early friend and supporter.` In his travels, he also met B.N. Sircar the founder of New Theatres.` It is said that it was Sircar, who persuaded Saigal to go to Calcutta.
Saigal's life in Calcutta was steeped in music.` Although he briefly worked as a hotel manager, his interest was in the music scene.` He was a frequent participant in mehfils.` He also recorded a number of discs of songs written and arranged by Harishchandra Bali.` These were released through Indian Gramophone Company.` Saigal's immensely popular music recordings proved to be his stepping-stone into the films.` While in Calcutta, Saigal was introduced to R.C. Boral.` It was Boral who signed Saigal to a contract with New Theatres.` He was paid Rs200 a month to work on their films.
He gave us such melodic gems like Mere Sapnon ki Rani, Ae Dil-e-Bekaraar Jhoom, Jab Dil hi Toot Gaya ` from Shah Jehan (1946).
It is over half a century since Saigal passed away but his haunting resonant, voice continues to enthrall listeners on early morning radio or on some fanatic collector`s old gramophone player`