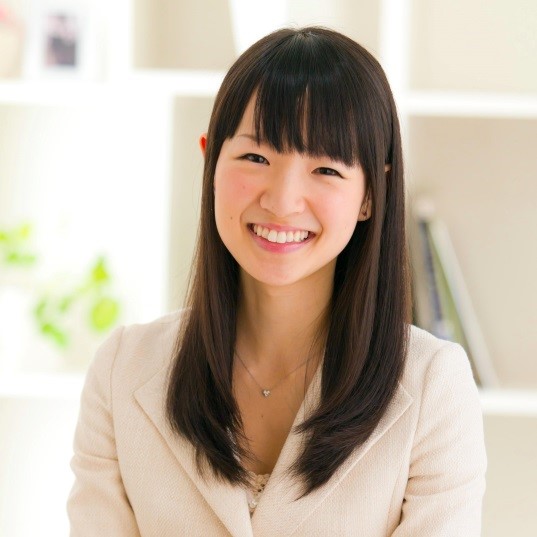 Marie Kondo is Japanese organizing consultant and author. She has written four books on organizing, which have sold more than two million copies altogether and have been translated from Japanese into languages including Korean, Chinese, French, German, and English. In particular, her book The Life-Changing Magic of Tidying Up: The Japanese Art of Decluttering and Organizing (2011) has been published in more than 30 countries. It was a best seller in Japan and in Europe, and was published in the United States in 2014.
She was listed as one of Time's "100 most influential people" in 2015. With a three-month waiting list, her KonMari Method of decluttering and organizing has become an international phenomenon.
The Life-Changing Magic of Tidying Up is a best seller in Japan, Germany, and the UK, with more than two million copies sold worldwide, and has been turned into a television drama for Japanese TV.
She has been featured on more than thirty major Japanese television and radio programs as well as in The London Times, The Sunday Times, Red Magazine, The Wall Street Journal, The New York Times, and
She was interested in organizing since childhood. In junior school, she ran into the classroom to tidy up bookshelves while her classmates were playing in physical education class. Whenever there was nomination for class roles, she did not seek to be the class representative or the pet feeder. Instead, she yearned to be the bookshelf manager to continue to tidy up books. She says she experienced a breakthrough in organizing one day, "I was obsessed with what I could throw away. One day, I had a kind of nervous breakdown and fainted. I was unconscious for two hours. When I came to, I heard a mysterious voice, like some god of tidying telling me to look at my things more closely. And I realized my mistake: I was only looking for things to throw out. What I should be doing is finding the things I want to keep. Identifying the things that make you happy: that is the work of tidying."
Kondo's method of organizing is known as the KonMari method, and consists of gathering together everything you own, one category at a time, and then keeping only those things which "spark joy" (tokimeku in Japanese, literally "flutter, throb, palpitate"), and choosing a place for everything from then on.
Please view the clips below, which will motivate you de clutter your lives as well.