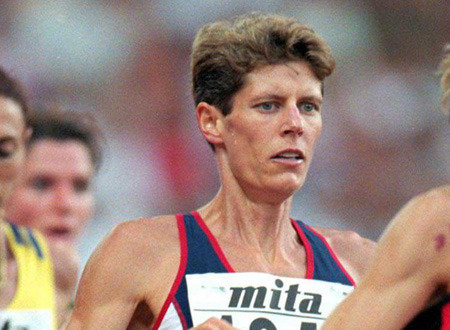 Marla Lee Runyan (born January 4, 1969) is an American track and field athlete, road runner and marathon runner who is legally blind. She is a three-time national champion in the women's 5000 metres.
Runyan was born in Santa Maria, California. Marla wasn`t diagnosed to be blind with Stargardt`s until she was nine years old in 1978. Her doctors had very low expectations for her future, predicting that she would never get above a `C` in school, learn to drive, or go to college. At that time, she was very active in soccer and gymnastics, but eventually had to drop them when her vision made it hard for her to see the soccer ball. She soon picked up running and became very dedicated. She continued running and competing in the Heptathlon, 200m dash, high jump, hurdles, long jump, javelin throw, and 800m run throughout her high school years and during college at San Diego State. She received a degree in Education of the Deaf at San Diego State University and one in Education of Deaf-Blind Children in 1994.
Runyan won four gold medals at the 1992 Summer Paralympics in the long jump and the 100, 200, and 400 meter races. She also competed in cycling at those games. She attempted to qualify for the "Able Bodied" Olympics at the 1996 U. S. Olympic Trials, finishing 10th in the Heptathlon. While failing to qualify, she ran the 800 meters in 2:04.60, a heptathlon-800m American record. This success convinced her to try distance running. At the 1996 Paralympics in Atlanta, she took silver in the shot put and gold in the pentathlon.
Her career as a world-class runner in able-bodied events began in 1999 at the Pan American Games, where she won Gold in the 1,500-meter race and was ranked second in the United States in that event in 1999 by Track and Field News. . The next year, she placed eighth in the 1,500-meter in the 2000 Sydney Olympics, making Runyan the first legally blind athlete to compete in the Olympics and the highest finish by an American woman in that event.
By 2001 she won her first of three consecutive 5000 metre National Championships. She also released her autobiography "No Finish Line: My Life As I See It" In 2002 she added the road 5K and 10K National Championships, and married her coach, Matt Lonergan.
She finished as the top American at the 2002 New York Marathon with a time of 2 hours, 27 minutes and 10 seconds to post the second-fastest debut time ever by an American woman.