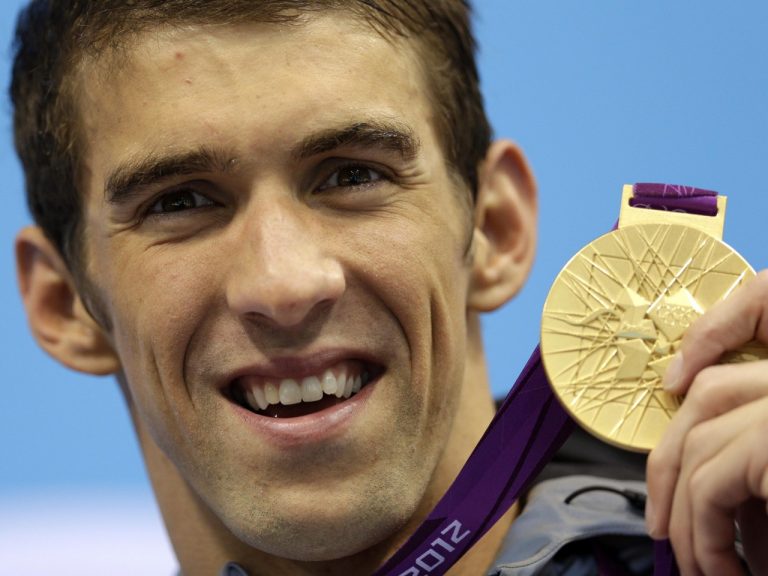 At age 7, Phelps was still "a little scared" to put his head under water, so his instructors allowed him to float around on his back. Not surprisingly, the first stroke he mastered was the backstroke.
Michael Fred Phelps II (born June 30, 1985) is an American former competitive swimmer and the most decorated Olympian of all time, with a total of 28 medals. Phelps also holds the all-time records for Olympic gold medals (23), Olympic gold medals in individual events (13), and Olympic medals in individual events (16). In winning eight gold medals at the 2008 Beijing Games, Phelps broke fellow American swimmer Mark Spitz's record of seven first-place finishes at any single Olympic Games. In the 2012 Summer Olympics in London, Phelps won four golds and two silver medals, 2016 Summer Olympics five gold medals, making him the most successful athlete of the Games for the fourth Olympics in a row.
Phelps is the long course world record holder in the 100 meter butterfly, 200 meter butterfly, and 400 meter individual medley as well as the former long course world record holder in the 200 meter freestyle and 200 meter individual medley. He has won a total of 83 medals in major international long course competition, totaling 66 gold, 14 silver, and 3 bronze spanning the Olympics, the World, and the Pan Pacific Championships. Phelps's international titles and record-breaking performances have earned him the World Swimmer of the Year Award seven times and American Swimmer of the Year Award nine times as well as the FINA Swimmer of the Year Award in 2012. His unprecedented Olympic success in 2008 earned Phelps Sports Illustrated magazine's Sportsman of the Year award.
After the 2008 Summer Olympics, Phelps started the Michael Phelps Foundation, which focuses on growing the sport of swimming and promoting healthier lifestyles. Phelps retired following the 2012 Olympics, but in April 2014 he made a comeback. At the 2016 Summer Olympics in Rio de Janeiro, his fifth Olympics, he won five golds and one silver. Phelps was chosen to be a captain of the 2016 US Olympic team, and was also voted by his team to be the flag bearer of the United States at the 2016 Summer Olympics Parade of Nations.
Please view the two links below to get inspired by the hard work of Michael Phelps.