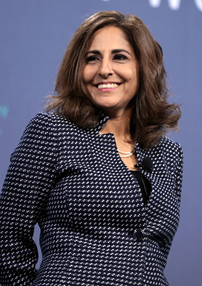 Neera Tanden (born 1970) is an American political consultant and former government official. She is the president of the Center for American Progress, where she has served in different capacities since 2003. Tanden has worked on several Democratic presidential campaigns, including those of Michael Dukakis in 1988, Bill Clinton in 1992, and Barack Obama in 2008. Tanden advised Hillary Clinton's successful 2016 primary campaign and unsuccessful 2016 general election campaign. She was also a senior staffer on Clinton's unsuccessful campaign for the 2008 Democratic nomination. During the Obama administration, Tanden helped draft the Affordable Care Act.
On November 30, 2020, President-elect Joe Biden announced that he would nominate Tanden as the next director of the Office of Management and Budget, subject to Senate approval.
Tanden has been regarded as a Clinton loyalist and personal friend of Hillary Clinton. She worked with President Bill Clinton's campaign on new energy policies, and health-care reform, as associate director for domestic policy in the Clinton White House, and as a domestic policy advisor in the First Lady's Office. In 1999 and 2000, Tanden was deputy campaign manager and policy director for Hillary Clinton during her successful senatorial campaign in New York. After the election, Tanden served as Senator Clinton's legislative director from 2003 to 2005.
Tanden was Hillary Clinton's policy director for Clinton's unsuccessful bid for the 2008 Democratic presidential nomination. The New York Times reported that Tanden punched ThinkProgress website editor and future Bernie Sanders 2020 presidential campaign manager Faiz Shakir for asking Clinton about her Iraq War vote, which was unpopular among many Democratic voters.
Tanden was an unpaid adviser to Clinton's successful 2016 primary season nomination campaign and unsuccessful general election campaign in opposition to Republican candidate Donald Trump, while also running the Center for American Progress. After Hillary Clinton secured the Democratic nomination for president in 2016, Tanden was named to her transition team. Tanden was considered a candidate for a top White House job, had Clinton won the presidency.
After Barack Obama was nominated as the Democratic presidential candidate, Tanden was one of the first, and one of the few, former Clinton campaign staffers to join his team. She was domestic policy director for his successful general election campaign.
Tanden served in the Obama administration as senior adviser to Secretary Kathleen Sebelius of the Department of Health and Human Services. She helped to draft the administration's health care legislation, including work specific to its proposed, but later withdrawn, public option. She also negotiated with Congress and stakeholders on several provisions of the bill. She has been described as one of the "key architects" of the Affordable Care Act. In October 2011, Tanden succeeded John Podesta as CAP's president and CEO.
After the 2016 election and Clinton's loss, Tanden refocused the work of the Center for American Progress, aiming to have the think tank, and especially its advocacy arm (the Center for American Progress Action Fund), serve as a "central hub for Trump resistance" as well as playing a leading role in shaping the healthcare debate within the Democratic Party.
On April 28, 2020, Tanden was named to New Jersey Governor Phil Murphy's Restart and Recovery Commission. The Commission was tasked with preparing the state to reopen after its COVID-19 lockdown.
2012: Tanden was named one of the 25 "Most Influential Women in Washington" by National Journal.
2014: Elle named Tanden one of the ten most powerful women in Washington, D.C.
Please click on the link below to know more about her.