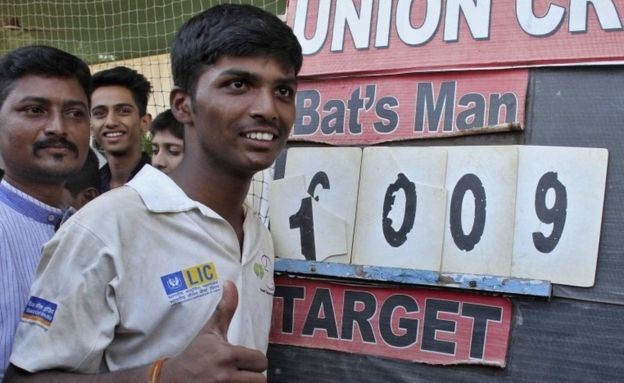 Pranav Dhanawade, broke a century-old cricketing record this January, he became the first batsman to score 1000-plus runs in an innings in any form of cricket. Batting against Arya Gurukul School in a Bhandari Cup match, Pranav reached 1000 runs in just 323 balls on Tuesday. The tournament is an under-16 inter-school event organised by the Mumbai Cricket Association (MCA) mainly for the benefit of suburban schools.
Pranav's epic knock, which lasted 395 minutes, included a staggering 59 sixes and 129 fours. His team soon declared the innings at 1465/3, which is also a world record, with Pranav remaining at unbeaten 1009, while the opposition side were bundled out for 31 on Monday. His school went past Victoria's 1107 against New South Wales made way back in 1926.
The 15-year-old Pranav Dhanawade, is the son of a Mumbai rickshaw driver. Dhanawade`s father Prashant rushed to the ground when he heard what was unfolding. He added that `I was nervous throughout but was just happy to see my son batting. There`s a lot of talent in our area but we lack proper facilities for children to play and get trained. For this reason, when Pranav turned nine, I enrolled him for coaching at MIG in Bandra. I would drive my rickshaw in the morning and then we`d leave for MIG in the afternoon and return at night. He said the target for his son now was a place in the Mumbai Under-16 team.`
Please view the link below to view his confidence at such a young age.