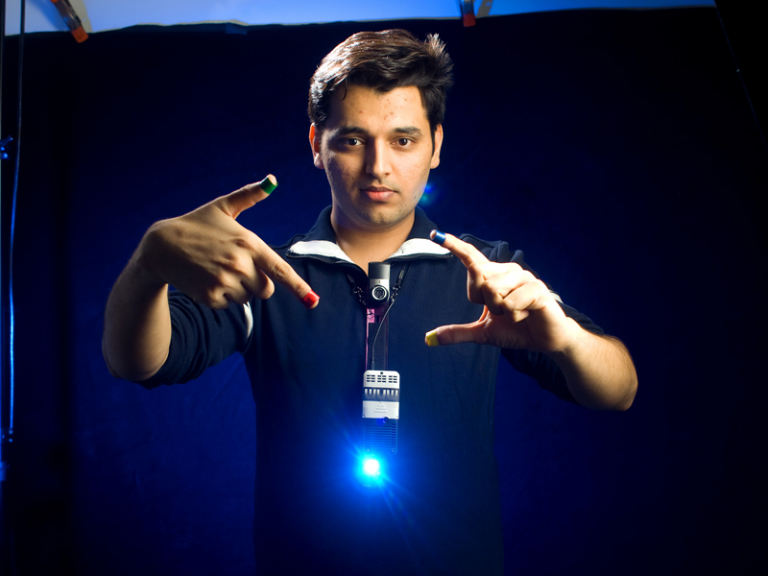 Hailing from Palanpur, Gujarat, this 33-year-old computer scientist and inventor is currently Vice President of Research at Samsung and is the head of Think Tank Team. He has contributed in Wearable Computing, Augmented reality, Ubiquitous computing, Gestural interaction, AI, Machine vision, Collective intelligence and Robotics. He was also honored as the Young Global Leader 2013 by World Economic Forum. His groundbreaking technology `SixthSense` won him international acclaim. SixthSense is a device that interprets human gestures and has both a data projector and a camera.
Mistry was born on 14 May 1981 to Kirti Mistry and Nayna. He has completed his bachelor's degree in Computer Science and Engineering from the Nirma Institute of Technology in Ahmedabad, Gujarat. Pranav holds a master's degree in Media Arts and Sciences from MIT and Master of Design from Industrial Design Centre, IIT Bombay. He also dropped out of an Architectural college prior to his bachelor's degree. Later he was a research assistant and a PhD candidate at MIT Media Lab.
He introduced Samsung Galaxy Gear smart watch in September 2013. In the past, he has worked with Microsoft, Google, CMU, NASA, UNESCO, Japan Science & Technology to name a few. Before joining MIT, Pranav worked as a UX Researcher with Microsoft.
Pranav has invented Mouseless ` an invisible computer mouse; SPARSH ` a novel way to copy-paste data between digital devices; Quickies ` intelligent sticky notes that can be searched, located and can send reminders and messages; Blinkbot - a gaze and blink controlled robot; a pen that can draw in 3D; and a public map that can act as Google of physical world.
He was also named to the MIT Technology Review TR35 as one of the top 35 innovators in the world under the age of 35. In 2010, he was named to Creativity Magazine's Creativity 50. Mistry has been called "one of ten, best inventors in the world right now" by Chris Anderson. Mistry has been listed as one of the 15 Asian Scientists To Watch by Asian Scientist Magazine on 15 May 2011. GQ India listed Pranav as one of the most powerful Digital Indians. He was listed as one of the 37 Indians of Tomorrow by India Today. Pranav Mistry was also honored as Young Global Leader 2013 by World Economic Forum.