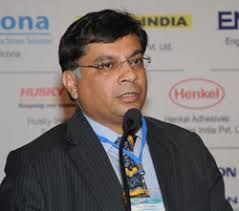 Rajiv Nath
Delhi-based family-owned corporation, Hindustan Syringes and Medical Devices Ltd (HMD) is one of the world's largest makers of syringes and is helping India battle the COVID-19 crisis.
HMD was founded in 1957 by Rajiv's father, the late Narindra Nath, who was marked by his passion for redefining the Indian healthcare sector with affordable medical devices.
Rajiv remembers growing up in the cool climes of Mussoorie, where he attended boarding school, until he came back home to Delhi and finished high school at St Columba's School. Following high school, he attended the PGDAV College, Delhi University, where he graduated with Bachelor of Commerce (Honours) degree.
"There were many hours spent studying books on management and psychology at the varsity's South Delhi campus. My boarding school and college experience taught me to be street smart, fend for myself without parental hand holding, develop independent thinking and seek innovative solutions to standard problems," says Rajiv to The Better India.
The objective after college was to join the family business. He had no other aspirations. "I am passionate about my work and its impact. Thankfully, I am lucky that my hobby, vocation and passion converge at HMD to provide affordable high quality medical devices whether it's made by us or by the Indian medical devices industry as a whole," he notes.
Rajiv believes that his company has always been a market leader. "Since the inception of our company, we have always grown with the market from glass syringes to disposable syringes and eventually auto-disable syringes. It's the same case with needles. We introduced hypodermic metal needles and disposable needles to the Indian market. At present, our share of the Indian market stands at about 60 per cent," he says.
Until he passed away two years ago at the age of 97, Narindra was the chairman and managing director. In his later years, Rajiv was the joint managing director. "We worked as a team and complemented each other's strengths," he adds.
Throughout it's nearly 65-year history, HMD has more or less been a family-owned corporation except for a brief period in 1995 when it needed money to raise production and purchase a lot of new machines. At the time, Narinder sought private capital for the first time.
"We had an injection of private equity when we were going through a very rapid growth phase. But subsequently, we bought back our shares," recalls Rajiv.
As Rajiv says, "We have received orders for 240 million Kojak syringes for COVAX (the WHO facility maintaining the supply chain of vaccine & syringes for developed nations) via UNICEF and 79 million Dispovan syringes for Brazil via PAHO (Pan American Health Organization) which we are executing side by side. HMD has also recently sold 15 million syringes to the Japanese government. Overall, we serve over 120 countries who depend upon our affordable Kojak and Dispovan syringes."
During non-Covid years, the company was producing around 200 to 250 crore syringes every year by using 70 to 80 percent of its total manufacturing capacity. This year, it is currently producing 270 crore syringes per annum and plans to increase capacity, to manufacture 300 crore syringes per annum, by July.
He goes on to claim that over 440 million Kojak syringes will be supplied to GoI for India's massive vaccination drive by September, including 177 million by April this year alongside supplies of Dispovan to private hospitals and vaccination clinics.
Please click on the link below to know more about him.