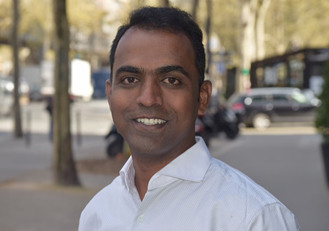 A primary school teacher from Maharashtra won the Global Teacher Prize 2020 in recognition of his efforts to promote girls' education. The 31-year-old Ranjitsingh Disale generously declared that he will split half of the prize money of USD 1 million with his top ten fellow finalists. On the generosity of his behaviour, Disale told Stephen Fry, "I believe that if I share my prize money with nine teachers, I can scale up their work. "He added that he wanted his fellow finalists to "continue their work" and said, "we can reach out and lighten the lives of many students."
Ranjitsinh initially wanted to be an IT engineer, but after engineering college did not work out as he anticipated, his father suggesting teacher training as an alternative. Initially hesitant, Ranjitsinh's time in teacher training college was life changing. He saw that teachers are the real change-makers in the world and decided to become one.
The first school he taught in was in a dilapidated building, sandwiched between a cattleshed and a storeroom. Most of the girls were from tribal communities that did not prioritise girls' education, and the practice of teenage marriage was common. Additionally, the curriculum was not in the students' primary language (Kannada), which meant that many students were unable to achieve expected learning outcomes. After putting in a great deal of effort, Ranjitsinh learned Kannada, and redesigned all the textbooks of grades 1-4 for better comprehension, along with unique QR codes that embedded audio poems, video lectures, stories and assignments in Kannada. (These QR coded books also benefited many girls when schools were closed for two months due to a terror attack, as they were able to continue learning using the books – and BBC News featured a story about them on 5th September 2019 to celebrate Teachers' Day.) Students now reflect on, discuss and showcase what they are learning to a far greater extent – developing communication, creativity and real-world problem-solving skills.
As a result of these efforts, the school was awarded Best School for the district in 2016, and 98 per cent of students have achieved their expected learning outcomes before completing the school year. In terms of his wider impact, The CEO of Microsoft (Satya Nadella) has recognized Ranjitsinh's work as one of three stories from India in his book Hit Refresh. The central government named Ranjitsinh 2016 Innovative Researcher of the Year, and he also won the National Innovation Foundation's Innovator of the Year award in 2018. He has communicated his methods by writing more than 500 newspaper articles and blogs, as well as participating in television discussions on educational topics.
Please click on the link below to view and learn more about this amazing personality.