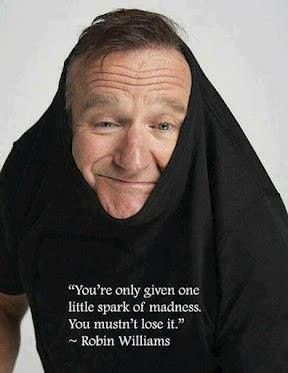 A true genius in comedic field who was able to deliver stunning dramatic performances to brilliantly draw many laudations plus accolades`throughout`his burgeoning career.` He hailed from a well-to-do family; Robin was born the only child of a former model of French descent named Laura McLaurin and Robert Fitzgerald Williams, a`Ford Motor Company senior executive, on July 21, 1951 in Chicago, Illinois. Most of his early life was spent in different places due to his father's occupation.
Once he grew up he was granted a scholarship to the famed Juilliard School in New York City for the full three years. During this period, the guy also took time to hone his skills in public places, performing mime on the streets besides practicing stand-up comedy whenever he had chance to do it. All really provided him experience needed to land part in the revival of NBC's comedy show, "Laugh-In", by 1977 and ABC's "Happy Days" one year later. Played an alien named Mork in the latter program, the response surprisingly was so great that its creator, Garry Marshall, eagerly made a spin-off titled "Mork & Mindy" aired through ABC in the same year.
The series instantly soared to become TV audience's favorite until its end in 1982, even led Robin to nab an Emmy nomination in the category of Outstanding Lead Actor in a Comedy Series while won a Golden Globe Award for that of Best TV Actor - Musical/Comedy by 1979. Williams went on to establish a career in both stand-up comedy and feature film acting.
His film career included acclaimed work such as`Popeye`(1980),`The World According to Garp`(1982),`Good Morning, Vietnam`(1987),Dead Poets Society`(1989),`Awakenings`(1990),`The Fisher King`(1991), and`Good Will Hunting`(1997), as well as financial successes such as`Hook`(1991),`Aladdin`(1992),`Mrs. Doubtfire`(1993),`Jumanji`(1995),`The Birdcage`(1996),`Night at the Museum`(2006), and Happy Feet`(2006). He appeared in the music video for`Bobby McFerrin's song "Don't Worry, Be Happy".
Williams was nominated for the`Academy Award for Best Actor`three times and won the`Academy Award for Best Supporting Actor`for his performance as therapist Dr. Sean Maguire in`Good Will Hunting. He received two`Emmy Awards, four`Golden Globe Awards, two Screen Actors Guild Awards, and five`Grammy Awards.
Please view the links below to see some of the genius of Robin Williams. The links` are tributes paid to him after his death by Oprah Winfrey and David Letterman.