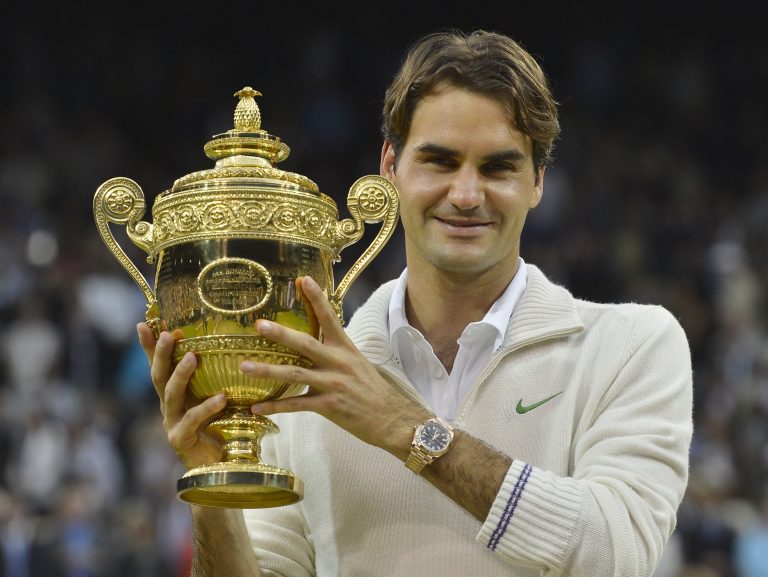 One of the greatest tennis players in history, Roger Federer has won a record 18 Grand Slam singles titles.
Federer first came onto the scene in 2001 as a 20-year-old when he made his first Grand Slam quarterfinal at the French Open. In the same year, at Wimbledon, he defeated 4-time defending champion Pete Sampras to reach the quarterfinals. The world was witnessing a prodigy in action. Numerous titles followed and before the world knew it, the pony-tailed guy right there had become one of the masters of the game.
As every player goes through testing times at some point in their lives, Federer, being human, did too and is still going through that phase. It`s natural for an athlete to lose his pace and stamina as age catches up with him. But Federer has done a tremendous job of maintaining his fitness when there`s competition from a beast of a player like Rafael Nadal and the ever-intimidating Novak Djokovic.Nothing in the world could unsettle Federer on the court. His calmness on and off it is second to none. He, for one, never vents out his frustration on any of the officials on the court. But, like everyone else, there came probably the worst day in his playing career after his 2009 Australian Open final loss at the hands of Nadal. `God, it`s killing me,` he said in his post-match speech, and broke down. He kept crying like a teenager who, in spite of trying everything, cries after failing to meet his loved ones` expectations. Even after this, he smiled when Nadal put his arm around his neck. `I will try again,` he said. `I don`t want to have the last word. This guy deserves credit,` he congratulated Nadal. If anything, the honesty could be seen in him.
Every year at the Australian Open, behind Roger Federer's super coach there sits an elderly couple. They are Bob and Diana Carter, Peter Carter's parents, the first of Federer's coach; he died in 2002 after an unlucky car incident in South Africa. Carter started coaching Roger when he was only 9. The day Carter died a 21-year-old Federer was in Toronto and he was heartbroken. And so every year since 2005, Federer pays a first-class air tickets, a room in the hotel to Bob and Diana who live in Adelaide. Federer had a very close relationship with Carter.
'Work ethic was very important for Australians, so I think I profited a lot from that and early on for me Peter Carter was a very important man just overall for my character', Roger said in an interview a few years ago. 'He taught me respect for each person. It doesn't matter if that person is famous or not famous. He just taught me the right values, so did my parents. They got on very well. We were very close to Peter, all of us.'
Federer has also established the Roger Federer Foundation, which helps provide grants to poor countries that have child mortality rates of more than 15 percent, for education- and sports-related projects, among others.
Please watch the links below to see an interesting interview of Roger by Andy Murray.