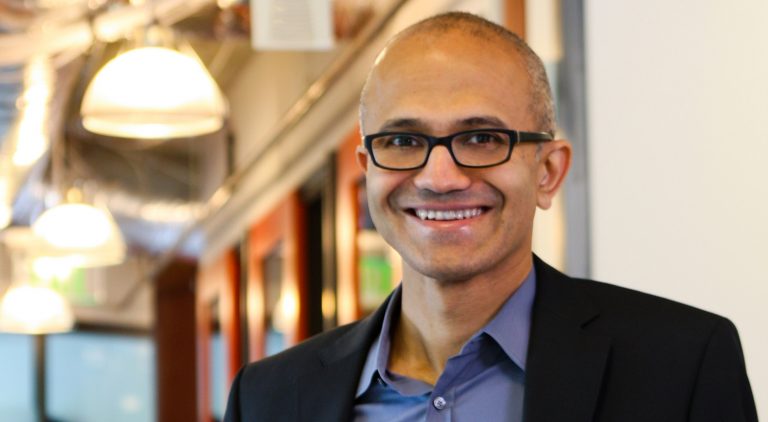 Nadella was born into a Telugu-speaking family in Hyderabad, India (now in the state of Telangana). His father, Bukkapuram Nadella Yugandher, identified as a Marxist and was a civil servant of the Indian Administrative Service.
Nadella attended the Hyderabad Public School, Begumpet before attaining BE degree in Electrical Engineering from Manipal Institute of Technology (then part of Mangalore University) in 1988. Nadella subsequently traveled to the U.S. to study for a Master of Science in Computer Science at the University of Wisconsin`Milwaukee, receiving his degree in 1990. Later he received his MBA degree from University of Chicago.
Nadella worked with Sun Microsystems as a member of its technology staff prior to joining Microsoft in 1992. At Microsoft, Nadella has led major projects including the company's move to cloud computing and the development of one of the largest cloud infrastructures in the world.
Nadella worked as the senior vice-president of Research and Development (R&D) for the Online Services Division and vice-president of the Microsoft Business Division. Later, he was made the president of Microsoft's $19 billion Server and Tools Business and led a transformation of the company's business and technology culture from client services to cloud infrastructure and services. He has been credited for helping bring Microsoft's database, Windows Server and developer tools to its Azure cloud. The revenue from Cloud Services grew to $20.3 billion in June 2013 from $16.6 billion when he took over in 2011.
On 4 February 2014, Nadella was announced as the new CEO of Microsoft, the third chief executive in the company's history, following Bill Gates and Steve Ballmer.
In the two years that have since passed, Nadella is viewed as having done well, with the Microsoft stock having risen more than 60% since he took over.
Nadella is an avid reader of American and Indian poetry. He also has an interest in cricket (his passion growing up), having played on his school team. He has mentioned having learned something about leadership and teamwork from cricket. He has cricket bat signed by Sachin Tendulkar as his favorite personal possession.
Nadella will publish his first book, titled 'Hit Refresh', the book explores his life, Microsoft and how technology will shape the future. The profits from the book will be put towards Microsoft Philanthropies where it will go on to help nonprofits. Please view the links below to get inspiration from him.