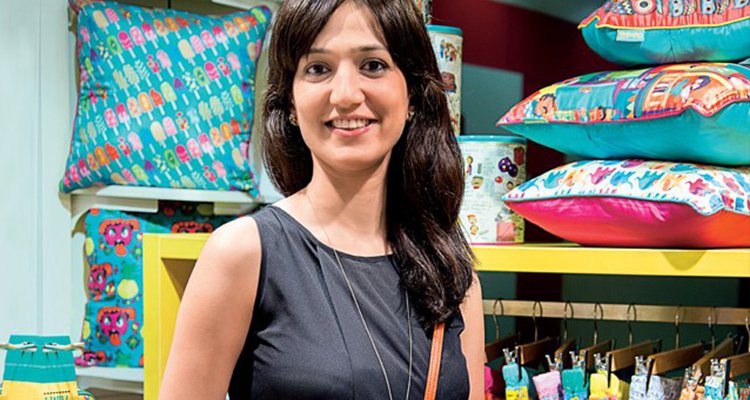 Raising children and a growing a business at the same time is a hurdle that Shubhra Chadda CEO and Co `Founder, had to contend with when she set up Chumbak in 2010, when her daughter was two years old.
Shubhra Chadda co-founded the Bangalore-based startup Chumbak with her husband, Vivek Prabhakar, in the year 2010. The company offers attractive products which include accessories, phone covers and other lifestyle products. Chumbak was started with an initial amount of Rs 45 lakh, which its founders raised by selling their house in 2010.
A total of 48 categories, with 400-500 products, make Chumbak an unparalleled venture. The venture operates out of a spacious studio that houses its office and warehouse. From a souvenir store to a lifestyle brand, in five years Chumbak has seen 300 per cent growth YOY. Chumbak has grown from a 30 member team to close to 150 people across all functions.
By the end of 2012, Chumbak was in 150 stores in India and another 100 stores in Japan with a strong e-commerce presence. These products are inspired by the everyday things that we see around us. After receiving funding from seed fund in 2012, the company also raised money from Matrix partners.
Speaking of the initial idea that created Chumbak, Vivek, the Co-Founder, says, `We were a little bored of the usual marble Taj Mahal replicas and handicrafts that were becoming the only souvenir option. We thought travellers deserved some more options that were hip and still represented India. That`s how Chumbak was born.`
Chumbak has increased its product repertoire to stationeries, bags and wallets, jewellery, key chains, apparel and home furnishings. Vivek says that they realised that the biggest fans of Chumbak were young Indians who wore India on their sleeves. Initially, the products were placed in MBO`s (Modern Brand Outlets), and soon the team received feedback that the customers wanted to see all their products under one roof. This led to the birth of pop-up stores in top malls across the country.
Google recently selected the company as one of the three companies worldwide for a case study on how companies have successfully used Google services.
Please see the link below to see an interview with Shubra by Namo Kini to get inspired.