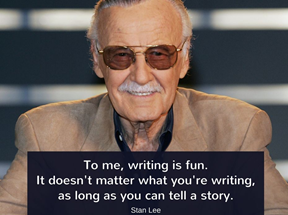 Stan Lee (born Stanley Martin Lieber December 28, 1922 – November 12, 2018) was an American comic book writer, editor, publisher, and producer. He rose through the ranks of a family-run business to become Marvel Comics' primary creative leader for two decades, leading its expansion from a small division of a publishing house to a multimedia corporation that dominated the comics and movie industries.
In collaboration with others at Marvel—particularly co-writers/artists Jack Kirby and Steve Ditko—he co-created numerous popular fictional characters, including superheroes Spider-Man, the X-Men, Iron Man, Thor, the Hulk, Ant-Man, the Wasp, the Fantastic Four, Black Panther, Daredevil, Doctor Strange, Scarlet Witch, the Black Widow and Captain Marvel. These and other characters' introductions in the 1960s pioneered a more naturalistic approach than previously applied to superhero comics, and in the 1970s Lee challenged the restrictions of the Comics Code Authority, indirectly leading to changes in its policies. In the 1980s he pursued the development of Marvel properties in other media, with mixed results. Following his retirement from Marvel in the 1990s, he remained a public figurehead for the company, and frequently made cameo appearances in films and television shows based on Marvel characters, on which he received an executive producer credit. Meanwhile, he continued independent creative ventures into his 90s, until his death in 2018.
Lee was inducted into the comic book industry's Will Eisner Award Hall of Fame in 1994 and the Jack Kirby Hall of Fame in 1995. He received the NEA's National Medal of Arts in 2008.
After graduating from high school at age 16, Lieber was hired as an editorial assistant for Timely Comics, and in 1942 he was promoted to editor. By that time he had begun writing comic-book scripts for Timely as Stan Lee, a pseudonym that eventually became his legal name. In the 1940s and '50s—during which time the group, later named Atlas, struggled financially—Lee created several comic-book series, including The Witness, The Destroyer, Jack Frost, Whizzer, and Black Marvel.
In 1961 Lee and artist Jack Kirby created The Fantastic Four, about four astronauts who gain superpowers after a cosmic incident. The series made him and Atlas—now known as Marvel—major forces in the comics world. One year later Lee and artist Steve Ditko created Spider-Man. Lee, Kirby, and Ditko adopted a collaborative workflow that came to be known as "the Marvel method." The technique gave artists significantly more input on story plotting, and it allowed Marvel to produce new content at a dizzying rate. The books joined a roster of increasingly successful series that also included The Incredible Hulk. Lee and Kirby added another winner to the group when they created The X-Men in 1963. A distinctive feature of Lee's comic-book heroes is that they combine superhuman powers with human insecurities and emotions. Marvel continued to prosper, and in 1972 Lee became publisher and editorial director of the group.
Please view the links below for more inspiration from him.