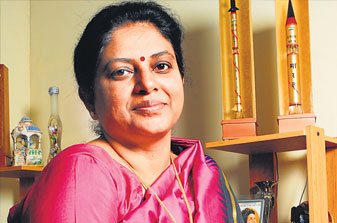 Tessy Thomas (born in 1964) is the Project Director for Agni-IV missile in Defence Research and Development Organisation. She is the first woman scientist to head a missile project in India. She is known as the 'Missile Woman' of India.
Tessy was born in April 1963 in Alappuzha, Kerala, to a small-businessman father and a homemaker mother. She graduated in engineering from Government Engineering College, Thrissur. She grew up near a rocket launching station and says her fascination with rockets and missiles began then. She also has an M.Tech in Guided Missile from the Institute of Armament Technology, Pune (now known as the Defence Institute of Advanced Technology).
Tessy was associate project director of the 3,000 km range Agni-III missile project. She was the project director for mission Agni IV which was successfully tested in 2011. Tessy was appointed as the Project Director for 5,000 km range Agni-V in 2009 and is based at the Advanced Systems Laboratory in Hyderabad. The missile was successfully tested on 19 April 2012. In January 2012, Prime Minister Manmohan Singh told the Indian Science Congress that Mrs Thomas is an example of a "woman making her mark in a traditionally male bastion and decisively breaking the glass ceiling". The media loves to call her Agniputri, or one born of fire, after the missiles she has helped develop. "We are all proud of our country. Agni-V is one of our greatest achievements," she says.
She is married to Saroj Kumar, now a commodore in the Indian Navy and they have a son, Tejas an engineer in Ford Technologies. In a glowing tribute in 2008, The Indian Woman Scientists Association did not forget to mention that "like most women she also does a tight-rope walk between home and career, between being a mother and a scientist who is dedicated to her job. We feel Tessy Thomas serves as a role model and an inspiration for women scientists to achieve their dreams and have their feet planted in both worlds successfully," the group said.
Tessy Thomas was conferred the Lal Bahadur Shastri National Award for her outstanding contribution for making India self-reliant in the field of missile technology.