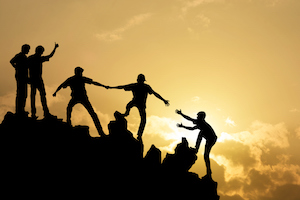 The Key Trait That Will Make You An Exceptional Leader
The driving forces of exceptional leadership are desire, self-awareness and, most important, compassion. Effective leadership cannot prevail under negative circumstances such as putdowns, dishonesty, demands, frustration, denigration, manipulation, fear or micromanagement. These negative forces create high turnover, a lack of productivity, a lack of motivation and a negative attitude in those required to produce.
The science is in! Strong leaders are the most compassionate. But what exactly does it mean to be a compassionate CEO? It means noticing the feelings of others and acting on those observations. It means listening with the intent to understand, not just reply. Data suggests this will make for stronger leadership, happier employees, and a better organization.
What Compassion Means
It's not just about being nicer to your employees. Compassion is an important business tool you can utilize to improve your organization. In fact, case studies show that leaders who are attuned to their employee's emotional needs fare better than those who choose to ignore the emotional side of business relations.
Today's leader will benefit from mastering both empathy and compassion. They may seem like interchangeable terms, but there are quite different. Empathy is the ability to connect with an emotion, rather than only the reason for the emotion — feeling their pain. Then, there's compassion. Weiner considers compassion "empathy plus action." Sometimes, experiencing only empathy can leave you helpless—if you're deeply feeling someone else's pain, for example, you'll lose the benefit of keeping your perspective. Compassion, however, allows you to act.
It's a no-brainer that the nicer the boss, the happier the employees… And it all has to do with how your brain interprets compassion.
Studies show that workers who feel compassion from their employers are likely to work harder, to the tune of 30% longer on difficult tasks. Compassion leads to feelings of capableness and pride — the more you implement compassion in your leadership, the harder your employees will work. And this emotional engagement will be boosted by the brain releasing oxytocin (feeling of connection to others), dopamine (anticipating reward) and serotonin (feeling good).
Leading with compassion isn't just a nice thing to do — it's been scientifically proven to improve companies in the long term and can even improve your health. Research proves that connecting with others in a more compassionate, meaningful way can help you recover from disease quicker and live longer.
3 Key Behaviors Of Compassionate Leaders
They alleviate employee suffering
Every CEO should be attuned to the personal suffering of their employees, and do everything in their power to reduce it… And surveys say the majority of office workers back him up. For example, 75% of HR/People leaders believe companies can and should give employees guidance when it comes to domestic abuse. Only 9% think it's something that should not be discussed at work.
Be aware of your employees and their issues… It's the compassionate response to put your employees' personal struggles on the radar, rather than dismiss the problems as bad for the organization.
They build trust
Compassion helps build trust. Teams that have each other's backs and have developed a sort of shorthand have the upper hand — Weiner considers it a "competitive advantage" to have that sort of trust, which stems from compassion. Focus on cultivating this trust, but don't forget to also lead by example. Leaders who exhibit compassion reinforce stronger teamwork.
They prioritize people, not business
"People first, then customers, then the business." It may seem surprising to have business as your last priority as a CEO, but this is exactly what former Reuters president Phil Lynch thinks is key to a strong (and compassionate) organization. In times of crisis, lead with transparency and put your people first. You'll be rewarded with stronger employee loyalty and trust.
Why Compassion Really Matters
In addition to physical health, compassionate living leads to mental improvements. Studies show that compassion activates the pleasure centers of the brain, which creates feelings of euphoria. Those same parts of your brain light up when you watch someone give to charity as when you receive gifts. Let's put it this way — just watching someone be compassionate can make you feel as good as being given a present. And everyone likes presents!
Net-Net
All in all, compassionate leaders have stronger teams, happier employees, better productivity, and even lead healthier lives themselves. How can you be more compassionate today?
Source: - Christine Comaford