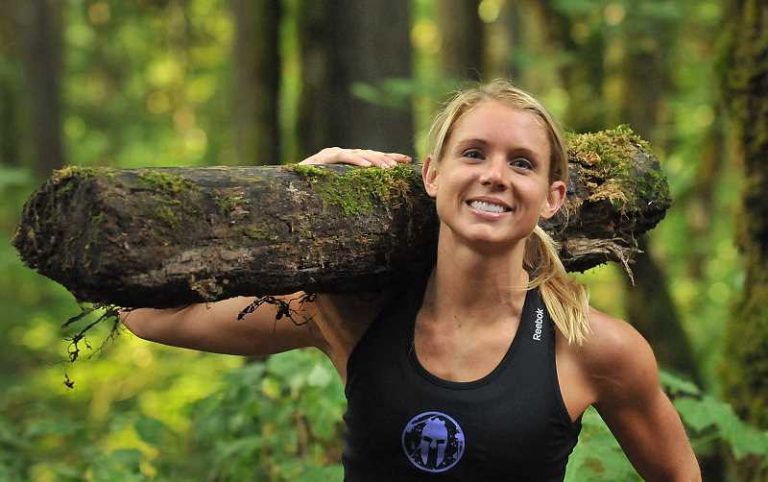 Amelia Boone (Born September 27, 1983) is an American obstacle racer. She used to be an attorney for the law firm of Skadden, Arps, Slate, Meagher & Flom. She's currently employed by Apple Inc. in San Jose, CA.
As one of the most accomplished OCR athletes in the history of the sport, she has won both the Spartan Race World Championship (2013) and World's Toughest Mudder (three times 2012, 2014 and 2015). In 2014 she won the WTM title eight weeks after major knee surgery.
She is sponsored by Reebok, BeetElite, RockTape and has been featured in a Tough Mudder commercial for Oberto Jerky, alongside sportscaster Stephen A. Smith.
Boone graced the cover of the August 2015 issue of Runner's World magazine, which included the article "The Obstacle Course Race Superstar: How Amelia Boone went from hating running to dominating races".
Amelia Boone has been called obstacle racing's first celebrity. She's won a variety of grueling contests like the World's Toughest Mudder, the Spartan world title, and Vermont's "Death Races."
Boone's day starts when she wakes up around 4:00 or 4:30 to work out. It's taken a bit of a toll on her social life, she says. "If you have to wake up and run 30 miles for a training run, you're not going to be out heavily boozing the night before."
Then, she goes to work. Being a corporate attorney provides "a mental stimulus that`s different than being out there racing as an athlete," she says. "I like having both sides [of my life], it just makes me feel very well rounded."
Boone got started as an endurance athlete at age 28, after finishing law school. "It was a transformation for me," she says. She worked at renowned law firm Skadden, Arps, Slate, Meagher & Flom for five years before moving to the Cupertino tech giant. She fell into the sport originally almost by accident, not long after colleagues convinced her to sign up for her first Tough Mudder.
Boone went on to win more races than any other female athlete, and made a habit of lapping the men, too. Of course, the sport is still male-dominated. Being passed by a woman, or getting "chicked," used to rankle some men. But attitudes are changing, she says. After she sustained an injury that put her on the sidelines this year, male athletes who used to resent her were cheering her on. Boone recalls they told her, "We`re going to miss you lapping us out there." The culture, she says, is getting better. As for the corporate multi-tasking, Boone, who's in her early 30s, plans to keep doing it, social sacrifices or no. "If you have passion for something you make the time," she says.
Please view the links below to know more about Amelia and her passion.