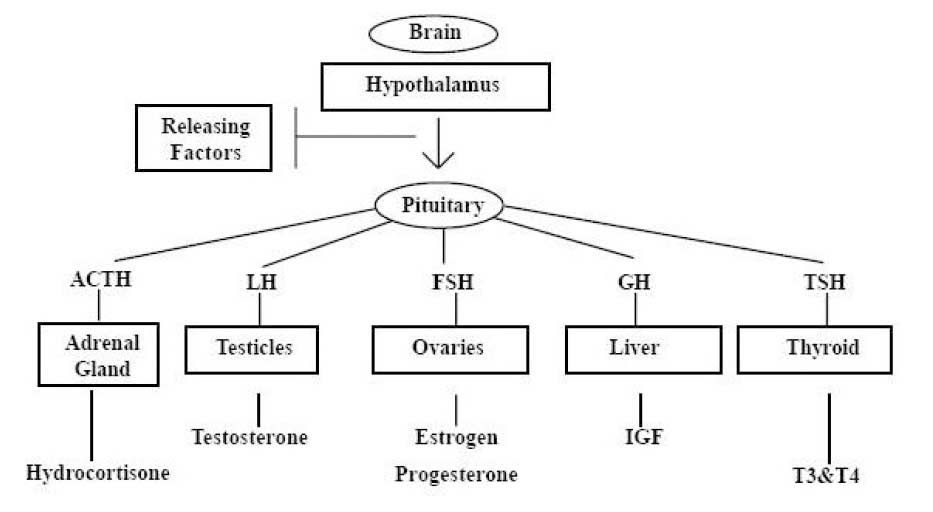 Your endocrine system : a system of glands throughout your body that release essential hormones to keep your body fine-tuned to function well ` and comfortably. Most of these hormones do grandma`s work; they perform good deeds without anyone ever noticing, and you live a good life because of all they do. These glands regulate themselves, so you rarely have to worry about switching anything on or off, or turning any knobs. That doesn`t mean that you should ignore your hormones; in fact, there are many ways to help regulate the hormones in your body. Hormones play a role in everything we do ` how we handle stress, how we absorb fat, and how we reproduce. When these hormones go haywire, that`s when things can get scary. A common problem with endocrine disorders is that they`re difficult to diagnose because the symptoms are often vague and seemingly unrelated. Though all hormone problems are different, many hormones have several common characteristics. For one, they regulate some of the under-the `radar feelings that don`t have any obvious physiological explanation ` things like fatigue, sex drive, and whether you prefer hot or cold weather. In the case of most endocrine glands, high blood pressure plays a role in the dysfunction of that gland, or the dysfunction of that gland leads to an increased risk of high blood pressure.
Let`s take a look at your glands:
Pituitary Gland is situated in the brain; the pituitary serves as the central commander role of endocrine function ` by sending out signals to glands throughout the body to release different hormones that dictate how you feel. Thyroid Gland - The main function of the thyroid hormone is to regulate the metabolism of your cells ` that is, the chemical changes in your cells that cause them to live, grow, and die. And that plays a key role in weight management. Adrenal Glands - These glands are hormonal workhorses. They produce the stress hormone cortisol, as well as hormones that turn into both female hormones like estrogen and progesterone and male hormones like testosterone. Kidneys ` Your kidneys are responsible for producing a hormone that stimulates the production of red blood cells by preventing their premature death. This hormone also helps preserve other cells, like heart and brain cells that have been injured by lack of blood flow. Your kidneys also play a very traceable and key role in regulating blood pressure. Pancreas serve a number of functions, including helping out in the digestive process. But it also produces insulin ` the hormone that helps the body store and use glucose.
Your Hormones: The Live Younger Action Plan
In many ways, hormones are your body`s regulators. They regulate your energy supply, water supply, and heating levels. They regulate your ability to handle stress. They even regulate the ability to conceive. But even small deviations from normal levels can make you feel weak, tired and uninterested. Hormonal deficiencies aren`t just things you need to accept. Not only are being tired, having less sex, or gaining weight quality-of-life issues, but they`re also health issues. All of these symptoms make you more prone to aging.` Certainly, some hormonal problems like diabetes have stronger long term health implications than others, but remember, the one overriding thing that ties your endocrine system together is that your hormones are connected to your brain. Without optimal hormone levels, you won`t have optimal brain function. While you have less control over your hormone regulators than you do over other parts of your body, you can still take many steps to keep your hormonal levels as balanced as a tight rope.
Control Your Blood Pressure
High blood pressure magnifies the aging and symptoms associated with diabetes, causes kidney failure and many other hormone ` related conditions, and be triggered by thyroid, adrenal, or kidney problems. Optimally, you want to keep your blood pressure at 115/75. That`s the level at which you`ll see least aging. There are many ways to lower your blood pressure, including medications, physical activity, and diet. A great approach that also helps your whole endocrine system is to lose extra weight. Being overweight not only increases blood pressure, it also puts you at risk for diabetes. The best news is that you don`t need a dramatic loss from the start to see the effects. If you lose just 10 percent of the weight you gained since you were eighteen ` that`s only four pounds if you`ve gained forty pounds ` you can make yourself up to five years younger. By extension, that same 10 percent weight loss will usually decrease your blood pressure by levels of 7 mmHg from the systolic ( the top number) and 4mmHg from the diastolic ( the bottom number ), which can have the Real Age effect of making you more than two years younger.
Eat To Feel Better
We eat because we`re hungry, because we`re bored or stressed, because there`s no need to leave an empty plate. Ultimately we should eat for nourishment ` to provide our body with the necessary nutrients to make it run like a fine-tuned engine. To that end we should also eat not only to reap long-term health, but to regulate the hormones that can make us feel better every day. Ginseng, Cinnamon, and Tea have been shown to help increase insulin receptivity, which can lower the risk of aging from type 2 diabetes. Cruciferous foods like broccoli, cabbage, cauliflower, and Brussels sprouts contain compounds that help produce estrogen and protect against breast cancer. Soy products like tofu, soybeans, garlic and onions also work similarly. Also falling into this category is the Mediterranean - type diet ` a diet rich in olive oils, fish oils, calcium and fruit. Potassium and Magnesium can decrease the incidence of some forms of arterial aging. Potassium is usually found in bananas. Magnesium is found in whole-grain breads and cereals, beets, raisins and dates.
Speak Up
Many doctors are like detectives. The solution to whatever is bothering you isn`t always evident. So a doctor needs to piece all the symptoms together to try to make an assessment of what`s wrong. In some cases the problem is pretty clear. In other cases it`s not quite so clear. Once you bring in the endocrine system, diagnosis is murkier. That`s because the endocrine system is sneaky. You may feel certain symptoms, but you don`t necessarily account for them when assessing your health; you may even chalk them up to being your own fault or to being a result of fatigue or stress. That may mean you withhold important clues from your medical detective. So it`s important to mention all symptoms you`re having ` no matter how inconsequential they may seem.