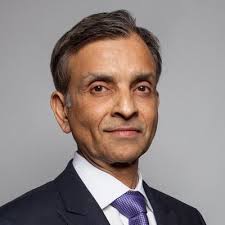 Vivek Ranadivé is Chairman, Founder & CEO of Tibco. He is an entrepreneur, tech visionary, author, philanthropist, and sports team owner recognized for his outside-the-box thinking.
Vivek Yeshwant Ranadivé (born 7 October 1957) is an Indian-American businessman, engineer, author, speaker and philanthropist. Ranadivé is the founder and former CEO of TIBCO, a billion dollar real-time computing company, and of Teknekron Software Systems. Ranadivé is a co-owner and chairman of the National Basketball Association's Sacramento Kings.
Ranadivé grew up in the Juhu area of Bombay, India, and was the youngest of three children. He studied at the Bombay International School, located at Babulnath, Mumbai. He is the nephew of the Indian Communist leaders Balkrishna Trimbak Ranadive and Ahilya Rangnekar. At 16, Ranadivé was accepted to MIT, but in the 1970s the Indian government did not release foreign currency for citizens to study abroad. Ranadivé talked his way into the office of the Reserve Bank of India and got the required foreign exchange for one quarter of the tuition.
After earning bachelor's and master's degrees from MIT, he obtained an MBA from Harvard University in 1983. While at MIT, Ranadivé started his first company, a UNIX consulting company. He also held management and engineering positions with Ford Motor Company, M/A-Com Linkabit and Fortune Systems.
Teknekron Corp., a technology incubator, provided $250,000 in seed capital to Ranadivé in 1985 to found Teknekron Software Systems. In 1997, Ranadivé founded TIBCO Software Inc. with funding from Cisco and Reuters. In 2010, Ranadivé became the co-owner and vice chairman of the Golden State Warriors, making him the first person of Indian descent to co-own an NBA franchise.
Today, TIBCO technology helps more than 4,000 customers thrive by powering everything from the web to airlines, financial services, utilities, communications providers, manufacturers and governments. As a global leader in infrastructure and business intelligence software, TIBCO helps its customers combine Fast Data with real-time information to provide immediate awareness and enable instant action. With revenue run rate of over one billion dollars, TIBCO is one of the fastest-growing software companies in its peer group.
Vivek has authored three books that are New York Times and global best sellers, both widely read in business and academia. His most recent book is titled "The Two-Second Advantage: How We Succeed by Anticipating the Future – Just Enough." His previous book, "The Power to Predict," explores how companies can break new ground in their quest to anticipate customers' needs, capture new opportunities, and predict and avoid problems. "The Power of Now" covers how winning companies sense and respond to change using real-time technology.
Please click on the links below to get inspired by Vivek Ranadive.